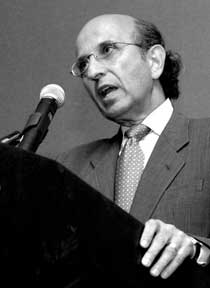 Schools Chancellor Joel Klien
Scholastic Education Takes Lead in Literacy
Scholastic Hosts School Reform Initiative
Opening at the Majestic Ballroom of the Westin Hotel before a crowd of scores of superintendents from around the country, Scholastic graciously hosted a two-day Superintendents' Literacy Leadership Summit to address the national dilemma of adolescent literacy.
Luminaries in government and education highlighted the underpinnings of school reform. Guest speaker Governor Mark Warner of Virginia—describing the pressing issues of global competition and education as tied to national security—underscored the need to bring qualified teachers into poor areas to overcome the ironic trend of sending less qualified teachers to these areas. He stated his willingness to "give bonuses to teachers going into schools in poor areas." Warner also stressed the need for defining educational standards and for remediation based on these benchmarks.
With his classically upbeat style, Schools Chancellor Joel Klein stated in his opening remarks that though "school reform is urgent it must not be joyless." Klein cited that only two out of 10 students and one of 10 Latino and African American students earn regents diplomas. He indicated that students three to four years behind in reading cannot be expected to graduate high school and stated that early intervention is vital so that students enter high school prepared with the necessary skills. Klein espouses a pedagogical and instructional pattern of school reform. He stated that through the use of such instruction there was an 11-point increase in reading scores for grades three through eight. At the same time, it is essential that literacy programs be individually tailored to the needs of students: "The days of using only one basal reader for all students are thankfully over," he exclaimed.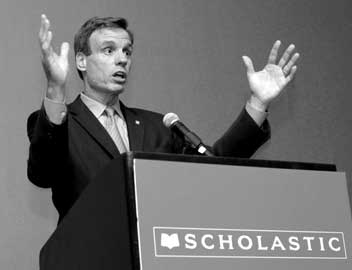 Virginia Governor Mark Warner
Klein highlighted the human resource factor as a key dynamic for successful school reform. He cited the case of a student who performed poorly at one school and then phenomenally at another school where expectations for him were high. When asked why the sudden shift in his performance, the student responded that in the first school the teachers didn't expect anything from him and so he met those expectations. Klein expressed the importance of coaching teachers—New York City Public teachers and staff are currently receiving training—and stated that it is crucial for principals to be "chief instructional leaders."
On day two of the leadership summit a panel of superintendents at Scholastic headquarters—moderated by Ernie Fleishman, Senior Vice President Education and Corporate Relations—provided their views on school reform with respect to infrastructure.
Panelist Dr. Clayton Wilcox, Superintendent of Pinellas County Public Schools in Florida, expressed that "while there may not be magic bullets there are magic bebes" for school reform. Among these 'bebes' are to "create a sense of passion and urgency around the need for reform and then provide leadership."
The general consensus among Warner, Klein, and Superintendent panelists is that leadership, literacy coaching, data accountability, and instrumental use of time using key instructional programs are all vital components for addressing the urgent need to raise literacy levels across the nation.#