2005 McGraw Prize In Education Given to Leaders In Early Childhood Education & Teacher Education
Preparing students and teachers for success has been the focus of three exceptional educators who were being honored for their innovations and accomplishments. Barbara Bowman, Sharon Lynn Kagan and Ellen Moir are the 2005 Harold W. McGraw, Jr. Prize in Education winners, Harold McGraw III, chairman, president and chief executive officer of The McGraw-Hill Companies announced recently. The three were recognized for their work in early childhood education and teacher professional development. These three remarkable women were saluted recently at a dinner at the New York Public Library (NYPL).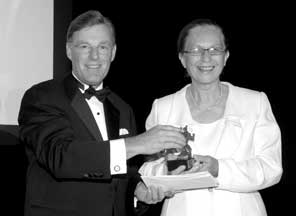 Harold McGraw, III and Barbara Bowman
"Few educators have thought more about student and teacher preparedness than those we are honoring today," said Mr. McGraw. "From creating standards for model early childhood education systems to establishing support programs for new teachers, the 2005 McGraw Prize winners have brought necessary attention to what is at the foundation of successful efforts to educate our nation's children."
The winners of the 18th annual McGraw Prize are:
Barbara Taylor Bowman, Co-Founder, Erikson Institute—Bowman has been a powerful advocate for children for more than 50 years and is a lifelong proponent of higher education for those who teach and care for young children. Bowman is a pioneer in building knowledge and understanding of the issues of access and equity for minority children.
The Erikson Institute she founded was established in 1966 to educate preschool teachers to work with at-risk children from low-income families in the Head Start program. Today, largely because of Bowman's leadership, Erikson's educational programs reach more than 2,500 students and, through them, hundreds of thousands of children. Erikson alumni include teachers, social workers, human service providers, and health practitioners in the United States and throughout the world.
Sharon Lynn Kagan, Associate Dean for Policy and Marx Professor of Early Childhood and Family Policy, Teachers College—Kagan, widely recognized for her work with early childhood education, is a frequent consultant to the White House, U.S. Congress, the National Governors' Association, and the U.S. Departments of Education and Health and Human Services.
Kagan is a prolific author, having written over 200 publications focusing on issues including the development of an early childhood system, strategies for collaboration and service integration, mechanisms to enhance the quality, quantity, and financing of early childhood and other social programs.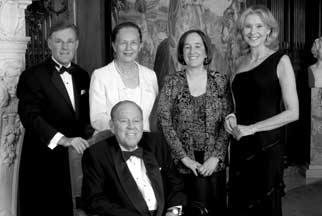 Standing (L to R): Harold McGraw III, Barbara Bowman, Ellen Moir, Lynn Kagan. Seated: Harold W. McGraw, Jr.
Ellen Moir, Executive Director, New Teacher Center, University of California, Santa Cruz—Moir is recognized nationally for her knowledge and expertise in teacher preparation, induction and support. Moir founded the New Teacher Center (NTC) in 1998 as a place where educators and researchers could study, develop, and administer new teacher and administrator support programs.
The NTC consults with organizations, educational leaders and policy makers worldwide. Current NTC efforts include mentor training initiatives in New York City and the District of Columbia. Growing from an initial staff of five, today NTC has 65 teachers and researchers who continue to spread the influence of Moir's work.
"This year's McGraw Prize recipients show us that support early on—be it for pre-schoolers or beginning teachers—is the key to sustained success," added Mr. McGraw. "They have brought academic innovation as well as a tireless focus to student and teacher preparation and ultimately have made an important difference in the way we educate our children."
The Harold W. McGraw, Jr. Prize in Education annually recognizes outstanding individuals who have dedicated themselves to improving education in this country and whose accomplishments are making a difference today. Honorees are chosen by a distinguished panel of judges made up of thoughtful and influential members of the education community. Each winner receives a gift of $25,000 and a bronze sculpture. The Prize was established in 1988 to honor Mr. McGraw's lifelong commitment to education, and to mark the Corporation's 100th anniversary.
Past honorees include: Barbara Bush, founder of the Barbara Bush Foundation for Family Literacy; James B. Hunt, Jr., former Governor of North Carolina; former U.S. Secretaries of Education Richard Riley and Rod Paige; Carl Cohn, former Superintendent of the Long Beach Unified School District; Yvonne Chan, Ed.D., Principal, Vaughn Next Century Learning Center; Mary E. Diaz, Ph.D., Dean of Education, Alverno College; and Dennis Littky, Co-Director of The Met and Director of the Principal Residency Network. In 2004, the honorees were Geoffrey Canada, President & CEO, Harlem Children's Zone; Robert Moses, Founder and President, Algebra Project Inc.; Cecilia Cunningham, Executive Director, The Middle College National Consortium, LaGuardia Community College; and Janet Lieberman, Founder, Middle College High School.#
Additional information is available at www.mcgraw-hill.com