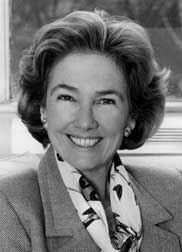 Elizabeth Rohatyn
Teaching Matters Celebrates Tenth Anniversary
Recently, Teaching Matters, a non-profit educational organization that helps teachers and students use technology effectively in the classroom, celebrated its tenth anniversary with an evening program at Rockefeller University's Caspary Auditorium featuring guest speaker George Stephanopoulos, ABC Sunday news anchor.
Teaching Matters has good reason to rejoice. Founded by visionary chairman Elizabeth Rohatyn, a noted philanthropist whose long list of public service credits includes the Board of Trustees of the New York Public Library, the organization has become a trusted partner in the New York City public schools. In just ten years, Teaching Matters has prepared and mentored over 8,000 NYC teachers and 350 principals to use technology in advancing instruction and school management, while spinning off two brand new techno-centered schools in the Bronx and developing a dazzling array of technology-enhanced curriculum projects for students city-wide.
"When we started ten years ago, there were not a lot of people out there who were doing what we were doing," reflects Elizabeth Rohatyn. In that ten year span, "we have been able to make a mark on the critical mass of teachers who were prepared to take a leap of faith and work with technology," adds Rohatyn.
Rohatyn, who originated the idea for Teaching Matters when she was a sponsor for an "I Have a Dream" class of 53 inner-city, at-risk students, realized that "if you brought technology into the classroom, you'd really turn these kids on." What happened next was like a primer for public advocacy. Rohatyn networked with corporations, private foundations and individuals to develop a formidable pool of capital (some $8.5 million to date) to bridge the digital divide and provide costly computer resources to the most disadvantaged students. She has also built up a current staff of some 40-curriculum consultants, most of them former teachers, whose job is to go into the most economically needy schools and provide customized curriculum development in the classroom.
About 80 percent of the organization's resources are now devoted to such hands-on mentoring of teachers. Whereas ten years ago the staff was teaching basic computer skills to teachers, "now we're really looking at creating learning experiences and environments that we can project into the classroom, whether it's websites or units that teachers can use to expand upon what they're doing. We're trying to engage kids through visual animation, in discussion groups on-line or after school, and in a variety of other ways where we can take an old topic and have kids engaged in different ways," explains Executive Director Lynette Guastaferro, a former Price Waterhouse Cooper management consultant-turned-teacher who joined Teaching Matters in 1997.
Teaching Matters' two new high tech laboratory schools, East and West Bronx Academy for the Future, offer a generous 1:1 ratio of students to laptops. Teachers incorporate digital projectors and tablet computers into their daily lesson plans so that students can visualize first-hand on their laptops what their teachers are discussing. One of the most exciting offerings is the home-school connection, where parents can log onto a home or library computer any hour of the day or night and stay on top of their children's grades and attendance. "While some parents are very tech-savvy and e-mail me every day, others don't even have a working telephone, or their cell has been cut off. Basically, it becomes a question of how we work together to help the student," says East Bronx Academy principal Sarah Scrogin. Mark House, a West Bronx Academy ninth grade social studies teacher, puts it this way: "If we can have parents on the same page as the students, there's no disconnect. Students can never say, 'I don't have homework tonight,' because the parents can log on and see for themselves." House is also enthusiastic about his ability to pretest the students by computer and generate an immediate analysis of their comprehension in different areas. "I know instantly what I have to teach based on what they know and don't know," adds House.
Looking ahead to the future, Rohatyn notes "the explosion of technology, particularly the Internet, into our everyday lives is having a dramatic effect on our democracy. Twenty-first century citizens, young and old alike, are barraged with information, encouraged to speak up and competing for their own space on the World Wide Web." Whether it is the challenge of keeping pace with the Information Age or providing expensive technological resources to all students equally, Teaching Matters will continue to play a valuable role in New York City's future.#