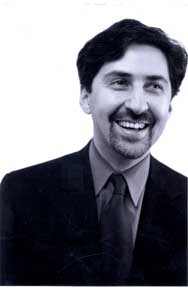 Richard Kessler
Profile: Richard Kessler
At the Center of The Center for Arts Education
Though the name of this nine-year young arts advocacy organization doesn't yet win awards for recognition, its new 46-year old executive director, with his lively, down-home enthusiasm, seems ideally positioned to "trumpet" the mission of The Center for Arts Education (CAE) but only because "trombone"—his instrument—is not a verb. It seems significant that Richard Kessler starts talking about the importance of arts education for the city's public schools by invoking his roots in Brooklyn and Queens and the indelible experience he had 30 years ago as a member of Beach Channel JHS 180's 300-member chorus. That a large public school without a lot of money or arts reputation was able to institute and maintain such an "excellent" chorus and music program fascinates Kessler. What was the magic, why did it end and can it ever be "restored"? So successful was 180 in teaching music by simply inspiring joy—"the gateway to music"—rather than insisting on notation drill, the preferred pedagogical approach, that when Kessler went on to Beach Channel High School, which had its own admirable arts program, he could not see himself joining its smaller chorus, and so he took up the baritone horn, then the trombone, becoming second trombone in the All City Orchestra, and eventually moving on professionally. Richard Kessler is a Naumburg award-winning chamber musician. He muses on his dazzling experience at 180 and would like to capture what he can for CAE, which he helped found in 1996. He knows that by high school it's too late to address the arts meaningfully.
Though at CAE for only a year, the ebullient director brings to the job a solid record of working with and consulting for various arts organizations and educational institutions, both in this country and in Canada, and in a variety of roles, among them master class workshop teacher, artist trainer, professional development leader, program and curriculum designer, advocate, fundraiser and evaluator. He holds two degrees from The Juilliard School and was on the faculty of the Manhattan School of Music, but it is the heritage of 180 that most claims his heart and soul. Yes, public schools suffered after the `76 budget crunch and ironically suffered even more when outside artists visiting the schools led some administrators to conclude that they could therefore cut back on arts teachers and attend more to politically charged skills-based learning. The situation was compounded by the fact that artists rarely visited K-6. Of course, as Kessler remembers, many "old school" elementary school teachers had common training and were encouraged to take up arts education by principals who truly cared about the arts. The principals! Ah, they are key, says Kessler, then pauses: how many young administrators today are likely to have had a background in arts education?
Because so many musicians are prominent in the world of arts education, it may seem that music is CAE's main focus. Not so, says Kessler. CAE's largest discipline is theatre, with dance a fast-growing subject as well as the visual arts. The museums got there first, he acknowledges, they were in the vanguard of getting students involved and in instituting cultural partnerships. History notwithstanding, Richard Kessler is out to ensure that all the arts are made an integral part of the "blueprint." Central to his effort is CAE's four-pronged initiative: getting more supporting partnership grants, such as those the organization now enjoys from Annenberg and Tisch; extending the Parents as Arts Partners program; working on curriculum development and assessment grants that document success and show how models can be adapted nationally; and expanding Career Development, with substantial aid from technology, that will point the way to jobs in the arts and related fields. To that end, CAE is mounting a stronger PR campaign to get the word out to guidance counselors and new teachers and principals.
How is CAE different from similar organizations in promoting such a vision? "CAE is not like any other organization, "Kessler bristles—with much good humor. Look at our mission, our only client is the public school child, we have no artists or genre to promote, we are unique, we are an "advocacy" group, we want to reach every school, every district and, this year, especially those schools that have not participated before. "Every school should have a robust arts education program; every child has the right—not an option—to participate."#
For more information about the Center for Arts Education, visit them on the web at www.cae-nyc.org.