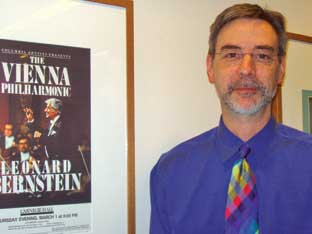 Hollis Headrick
Profile: Hollis Headrick
The Weill-Tempered Arts Initiative
Amazing but inevitable, perhaps, and certainly understandable that Hollis Headrick, the director of the Weill Music Institute (WMI) at Carnegie Hall, named for benefactor Sanford I. Weill, is pursuing a career started at 16 when his music teacher at Central High in Cape Girardeau, Missouri gave him the go ahead to assemble musicians for an R & B and Rock band that would play in addition to the regular concert band. Little did the young percussionist realize how much it would take to organize everything, but he moved on the project with purpose and passion, and the group was a success. Since then, crediting additional mentors, such as Kitty Carlisle Hart, the indefatigable arts administrator and arts advocate for New York State, and Schuyler Chapin, with whom he worked on launching The Center for Arts Education in the city, Hollis Headrick has made his mark on arts education. In his executive position at WMI, he is advancing music series old and new, including Family Concerts, free Neighborhood Concerts in all boroughs, Professional Training Workshops for young musicians, led by internationally known artists, adult education pre-concerts programs, and, of course, arts education for the schools, an ever-increasing amount of which can be found online as well as in the Hall.
Noting the Mayor's and the Chancellor's dedication to arts education, Headrick wants to build on Department of Education (DOE) curricular blueprints and strengthen Carnegie's arrangements with other city agencies, particularly the Department of Cultural Affairs. This concentration means enhancing the integration of music and music education programs by working imaginatively with the new DOE structure. "Arts education in New York has always been to some extent political," Hendrick smiles knowingly. Though WMI opens its doors to all students in the metropolitan area, a major part of its mission is to educate public school youngsters and the public at large—a not insignificant focus considering that concerts cost more and audiences for classical music are growing grayer. It makes good sense and cents to start music education with the very young.
Last year, over 34,000 students and their teachers participated in WMI programs that brought them to Carnegie Hall at least two times a year: the inspirational Musical Explorers, which introduces second and third graders to brass, woodwinds, percussion and string sections, and the skills-based Link Up for grades 4, 5 and 6. This year, grade 7 will be brought on board by way of American Roots, a series of interdisciplinary programs that will bring together music education and social studies and introduce youngsters to blue grass, jazz, the blues, cowboy music. Projects such as these, Headrick hopes, will help "reverse the pyramid" of shrinking student involvement in music offerings: Headrick wants "equity for all" so that the great base of visiting elementary students which narrows in grades 2-7 and is further reduced in high school, might be extended.
It's not just numbers he has in mind. Headrick is proud of WMI's grade-appropriate interactive sessions that in the early years introduce children to the family of musical instruments and to singing and the recorder, and then, through Link Up, address state education requirements with state-of-the-art technology. He is particularly pleased that youngsters get to hear great music, some of it contemporary and original. No lectures here—WMI's programs are "child centered," media-enhanced presentations—would you believe animated brass instruments on screen? Some sessions are even hosted by the kids themselves, alongside conductors. In addition, WMI "challenges" youngsters by asking them to connect what they learned in the classroom with what they see and hear at Carnegie Hall. Headrick also notes that WMI programs draw on the city's ethnic diversity—Indian music one year, Brazilian another, reggae and rap—all part of Global Encounters. This year the emphasis is on American Roots. Headrick knows that outside arts education cannot and should not be considered as replacement for the classroom. Indeed, his goal is to provide teachers and students, both, with exposure to professional development and to inspire as well as educate. He invites interested readers to access WMI's fabulous website at www.carnegiehall.org.#