Town Hall Honors Laurie M. Tisch & Peter Yarrow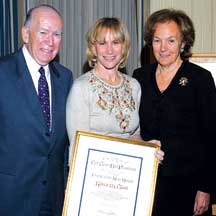 (L-R) Marvin Leffler, President, Town Hall & Dr. Charlotte Frank, Sr. V.P. McGraw-Hill; with Honoree Laurie Tisch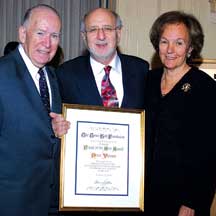 (L-R) Marvin Leffler, President, Town Hall & Dr. Charlotte Frank, Sr. V.P. McGraw-Hill; with Honoree Peter Yarrow
Celebrities and visionaries recently gathered at the lavish Princeton Club for the gala celebration of Town Hall's 84th season. Town Hall has a rich history dating back over four scores, when suffragists built the area to serve as a meeting spot to further their movement, and continues through the present day to serve as an ideal acoustical setting for grand musical performances, while maintaining a mission of culturally serving the community beginning at a young age, through programs such as The Magic of Theatre, which uses theatre to help children develop daily life skills.
President of Town Hall, Marvin Leffler, expressed excitement in beginning the new season, indicating readiness to embrace the challenges of a dynamic cultural horizon.
The celebration at the Princeton Club also included the bestowal of "Friends of the Arts" awards. President Leffler presented Laurie M. Tisch, one of today's foremost icons in cultural advocacy and philanthropy, with a plaque in "recognition of abiding achievement, enrichment, and support of the arts." Tisch graciously accepted the award, thanking her family and colleagues for the role they have played in her mission (of furthering the arts in education). Tisch is currently serving as board chair on the Campaign for Educational Equity, founded to understand and ultimately overcome inequities in education.
She praised Town Hall as "one of the great centers of artistic excellence" and described her fellow honoree, the legendary Peter Yarrow, of Peter, Paul and Mary, as having "compassion and generosity…making life more meaningful, especially for children."
President Leffler, in presenting the award to Yarrow, introduced him by stating: "If we had an index card with the name Peter Yarrow on it, where would we file it, with song writers? Yes. Under songwriter, performing artist, activist, visionary…But how many would initially think to file him under educator?" In line with the noble mission of Town Hall to use the power of music to educate youngsters, Yarrow, has expanded his social crusade using music to include furthering the moral development of children. Yarrow, in 2000, founded the organization, "Operation Respect," as part of a movement designed to build a culture of mutual respect and sensitivity among children.
The spark for this movement was lit when Yarrow was touched, at a Folk Festival, by a song entitled, "Don't Laugh At Me," whose lyrics include: "Don't get pleasure from my pain."
The song is used within the context of curriculum designed to teach children conflict resolution. Yarrow's program has reached summer camps, girls and boys clubs, and schools throughout the country.
Yarrow, in accepting the Town Hall "Friends of the Arts" award credited his mother—who taught English, speech and drama to high school students—for inspiring his work: "It was she who gave me a sense of the connection between the arts and the humanity in people it can inspire."
Charlotte Frank, Senior Vice President of McGraw Hill, was warmly thanked by Yarrow for her instrumental role in the creation of Operation Respect. Yarrow recounted the day he came to talk with Frank at a time when she was the head of curricular instruction.
Frank, in her humorous retelling of the story, said, "I was in the middle of working on getting out test scores when I was told that a Peter Yarrow was at the door. I responded that I didn't have time. When I was told he wasn't leaving, I asked, 'Who's Peter Yarrow?" Frank realized he was the Peter Yarrow of Peter, Paul and Mary, and thus began the collaboration which Yarrow described as "paving the way" for his mission which he considers as important as the one he was involved in during the Civil Rights movement.
The celebration at the Princeton Club would not be complete without a performance by Yarrow, who played his famous "Puff the Magic Dragon" as well as "Don't Laugh At Me," with the audience joining in to sing along.#