College Presidents Series
President Michele Tolela Myers, Sarah Lawrence College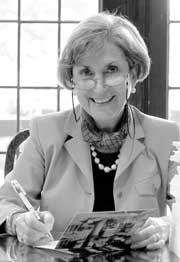 President Michele Tolela Myers
Delighting in fact that Sarah Lawrence is known as "most inky college" because of the extensive presence of writing in all classes, President Michele Tolela Myers also notes with pleasure another possible designation: "most idiosyncratic." Though much has changed in the college's over 75-year history, including going coed (in 1968) and veering from the earliest mission to educate only young women of polite society, basic premises have remained and indeed have been the main reasons why Sarah Lawrence College (SLC) is considered a "hot" college. Under the seven-year stewardship of Dr. Myers, who holds a Ph.D. in Communication Studies from the University of Denver and a diplôme in Political Science and Economics from the University of Paris, the defining characteristics of SLC have been enhanced: individually designed student curricula, basically free of course requirements; a 6 to 1 student-faculty ratio, a 15-member class maximum, and a reputation for progressive education, incorporating the ideas of John Dewey.
Although at least half her time as president these days has to be spent fundraising – hardly untypical – President Myers ensures that she hears from students themselves about how the college is meeting their expectations. They came to SLC, they tell her at her monthly at-home suppers, because of its "idiosyncratic" reputation for allowing them to design their own programs, in conjunction with faculty mentors called "dons," who also serve as constant advisors and ready resources throughout their college careers. SLC students don't "major in" subject matter and, with the exception of exposure to the humanities, social sciences and science and mathematics and the arts, meet curricular requirements by participating in course seminars and working on rigorous research projects (a couple of examples cited by the president involved national recognition and publication). Of course, the monthly suppers also provide the president with a chance to hear complaints, which she takes seriously—trying to reduce occasional dorm crowding, widening social life, but essentially she takes heart that the students volunteer that they "adore their courses."
Design-your-own studies, Dr. Myers points out, makes students directly responsible for their own success, a curricular way of life that has proved particularly attractive to students, men as well as women (a third of SLC's students are male), who are not that comfortable with traditional or mainstream colleges and who are passionate about pursuing their own desires and needs. So many colleges seem to be simply clones of one another, Dr. Myers says, but there's no mistaking SLC. The workload is heavy, much like graduate school, the president adds, but admissions policies remain competitive. Of course, demographics have changed from the 30s. About 70 percent of SLC students come from public high schools (overwhelmingly from NY and CA), with at least half receiving major financial aid. Twenty five percent are students of color. About 70 percent go on to graduate school. Approximately 40-45 percent may be attracted to the visual and performing arts, but they elect to broaden their reach. Thus, what at another college might be, for example, a "pre-med" major, at SLC is "pre-med AND"—a conjunction that may include art, music or writing. "That's the beauty of our program," the president proudly declares—she gets "goose bumps" just thinking about it—the college doesn't lock students in, force them to declare specializations. It gives them broad exposure to liberal arts where they learn primarily how to learn. As the country grows bigger, more homogenized, SLC takes pride in "swimming upstream" with idiosyncratic curricula. What all students also share—one of the college's main criteria for admission—is an appreciation of and competence in writing. "Everyone writes, in every class, all the time." Retention is high. So is morale, much of it, the president says, the result of on campus improvements that generous donors, mostly alums, have made possible through a capital campaign. The centerpiece is the Heimbold Visual Arts Center that has transformed study in the arts and technology and the addition of much needed social spaces for students.
Though it would seem impossible for such a busy person to pursue her own "inky" ways, President Myers tries to manage time for a novel she's been working on for a number of years called Something Borrowed, about plagiarism. Talk about hot and a love of writing.#