Corporate Leaders In Education:
Bob Wright: CEO & Chairman, NBC Universal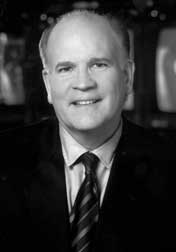 It's no accident that NBC Universal chairman and CEO Bob Wright has reached the top of his field. His media empire includes NBC, MSNBC, CNBC, Telemundo, and Bravo, as well as stakes in the History Channel and the A&E network, among many others. He's received the Golden Mike Award, and is a board member of New York Presbyterian Hospital.
Talent and opportunity certainly contributed to his success, but so too has his extraordinary sense of discipline, work ethic and relentless focus on achievement. Such qualities, he admitted in a recent telephone interview, were inculcated during his formative years on his native Long Island, where the young Wright was educated at an all-boys parochial high school, Chaminade, that catered to the sons of policemen, firemen and civil servants.
"It was a bare bones school that produced a lot of high achievers; they rapped your knuckles with a yardstick," Wright recalled. "It was a very strict, achievement-oriented environment that focused on discipline. The school's mission to educate middle-class children is a marvelous target. It almost guarantees success. The parents are really interested in their children's education. You receive a positive view of yourself, and do end up being really productive."
Such lessons were further reinforced when Wright went on to the College of the Holy Cross in Massachusetts, where he earned his undergraduate degree, and at the University of Virginia Law School where he received his law degree.
As he steadily rose on the corporate ladder, moving from the legal field to business, Wright said he never " had official mentors." Instead, he chose to "work for people whom I've considered as mentors," among them General Electric chairman, Jack Welch. As Wright said, "I picked my jobs carefully."
Used to challenges, and clearly someone who relishes the kinds of opportunities they provide, Wright is ready to tackle the rapidly changing media environment in which he now works.
"Personal communications, and broad personal communications, are inevitably on the increase," Wright admitted. "There's the Internet, and pod-casting, which gives people the ability to publish their own opinions and make them available to a large audience. That's rapidly gaining attention for the foreseeable future and we'll see more of it." Wright recently posted his own blog on a trip to visit his reporters in Louisiana.
So even though Wright represents a more traditional and conventional media company, he finds it "exciting" to be in the thick of this new landscape. "The challenge to news organizations that have more traditional and formal ways of presenting opinions is providing information and opinions in new ways," he said. "Younger people, more than older people, are more used to hearing opinion, not straight facts, and they don't have a problem with that. And older people are increasingly comfortable with opinions. It's a growing phenomenon. There'll be people who'll willingly try to get other opinions, at one end or the other end of the spectrum."
Although his work as head of a major broadcasting company is truly a 24/7 commitment, Wright nevertheless has embraced volunteer roles that are deeply significant to him and his family. As a trustee of his alma mater, Holy Cross, Wright understands that his mission is to assist the small, private liberal arts college in its fund-raising needs. "I'm there to raise funds, and contribute funds," Wright acknowledged. "My expertise lends benefits to the board, at helping with fund-raising efforts and contributing to the business agenda. We want to create a sufficient endowment to match more prestigious schools."
Recently, Wright and his wife, who live in Connecticut and have three grown children, learned that one of their grandchildren was autistic. In February of this year, they launched a foundation to promote awareness of the autism epidemic and to raise funds to support autism research. Autism Speaks is working with the Ad Council to create a national campaign to promote awareness of the early signs of autism and to encourage early detection and intervention. Autism Speaks is also a leading advocate for the Combating Autism Act, currently pending before Congress. "This law would more than double Federal funding for autism research and would increase resources in every state for the early diagnosis and treatment of children with autism," said Wright. "This is perhaps the most important thing to happen short of a cure." Autism Speaks also has a comprehensive website for families struggling with autism at www.austismspeaks.org.#