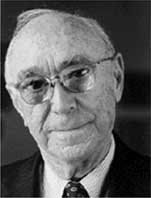 Dr. Jerome Bruner Speaks at Columbia Teachers College: "Educating a Sense of the Possible"
When Dr. Jerome S. Bruner took the podium on a recent evening at Columbia University's Lerner Hall, a palpable tingle permeated the packed auditorium. The audience, mostly Teachers College students and faculty who had assembled for the kickoff Virginia and Leonard Marx lecture of the 2005-06 academic year, knew they were in the presence of greatness, and indeed, Bruner, who in 1941 received his Ph.D. in Psychology from Harvard University where he co-founded and directed their Center for Cognitive Studies, is now widely regarded as one of the most influential twentieth century writers and thinkers to apply principles of psychology to modern education and curriculum theory.
Noting that there is "no greater challenge than thinking ahead to how effectively to educate the young to face the changes we know are coming in the next generation," the 90 year old Bruner, currently University Professor at NYU Law School, proceeded to captivate his audience with an intellectually rigorous and at times abstractly philosophical discussion of his latest work in the area of "intersubjectivity." Bruner explains that "we construct and we reconstruct our world, not just with bricks and mortar, but by creating and re-creating the meaning of different things," a process that takes place largely through social interaction, wherein the role of culture is key to shaping the mind. Bruner's theory of "cultural psychology" stands in sharp contrast to the more reductionist theory that the mind is simply a mechanism for information processing ("the exchange of intersubjectivity transcends Freud," Bruner adds.) We are "the most fanciful and searching of species, as well as the most quarrelsome and unpredictable. We like capricious disagreement," observes Bruner. And so it is crucial that modern psychology and education take into account the "import of sharing notions of how things work. We depend on each other to have common views." Ultimately, it is this "struggle between the conventional and the possible in the way we view the world" that has enormous implications for educating new generations of learners.
Quickly moving from the theoretical to pragmatic application of his principles, Bruner exhorts those in the field of education to "transmit conventional ideas but encourage students to make the leap to imagine the possible," to be ever-mindful of teaching "alternative views of thinking." To wit, is history merely an account of what happened, or an interpretation? "There is no history without historiography," Bruner adds, vehemently answering his own question. "History must include the study of possibilities: Why did this happen rather than something else? If we make it a study of dates, places and facts, we don't do justice to the teaching of history." Likewise, science, math and language arts should be imbued with "the challenge of different possibilities," according to Bruner. "We must teach not to present fact, but to open up questions." Bruner urges modern educators to include more fiction writing in their curricula: "We need more consciousness-raising from narrative," he exhorts, noting that his college freshmen wrote alternative versions of plays, work that was "full of the invitation of possibilities."
On a personal note, Bruner shares with the audience that his pedagogy was heavily influenced during his formative years by growing up with an older sister who would constantly challenge his sense of reality. "The shape of my mind was formed by preparing myself to answer her questions," he laughs. And so Bruner has continued the cycle by challenging new generations of students to question and think critically about their world. Perhaps no one could say it better than famed Harvard educator and cognitive psychologist Howard Gardner, born nearly 30 years after Bruner, who wrote in a 2001 book on Fifty Modern Thinkers in Education. From Piaget to Present, "Jerome Bruner is not merely one of the foremost educational thinkers of his era; he is also an inspired learner and teacher. His infectious curiosity inspires all who are not completely jaded."#