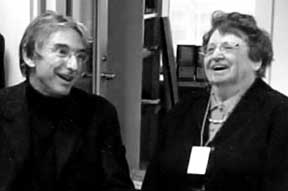 Michael Tilson Thomas & Chana Mlotek
Careers:
Chana Mlotek, Folk Songs
The Woman Isaac Bashevis Singer Called "The Sherlock Holmes of Yiddish Music"
Belying her age by years, the sturdy octogenarian moves with purpose and quiet determination, up the steps, down the steps, across the floor, finally propelling visitors into a small office wonderfully crammed with books, many by her—hundreds of songs and poems and oral histories.
A couple of photos of herself being hugged by the famous composer and conductor Michael Tilson Thomas modestly adorn the wall, though it could easily be wallpapered with honorary plaques and certificates, including the Lifetime Achievement Award she received two years ago from the YIVO* Milken Archive of American Jewish Music and the Jewish Theological Seminary at an international conference in New York on Jewish Music in America. At that time the much-loved and admired writer for the Jewish Forward, whose detective column, Perl fun der yiddisher poezye –"Pearls of Yiddish Poetry," a unique bi-weekly which includes a Q & A" and a "Readers Recall Songs" section, vowed that she would not be slowing down. "Every day there's something new to be done." Now, two years later, the indefatigable Chana Mlotek is still deep in research, chasing down answers to queries that pour in from readers and fans all over the world about Yiddish music. Indeed, as she starts to speak to her visitors, the phone rings. "You need art music songs? When would you like to come in? "The computer in back of her blinks with a full screen of emails. When the archival world started going digital, the energetic Chana Mlotek learned about computers. No generation gap for her. Her son, Kalman, a composer, conductor, arranger, and the executive director of the Folksbiene Theatre, the oldest Yiddish theatre in the world, assists with the column, her older son Mark is on the board. But Chana is at the helm.
The Mloteks—husband Joseph, who died a few years ago, and was Chana's soul mate and partner—were a formidable team for decades, sharing the column and pursuing and publishing original and transliterated versions of Yiddish scores and texts, providing historical accounts of provenance, context and significance—Hasidic and liturgical pieces, ballads, sad shtetl songs about orphans and young women left alone and glad songs about rabbis, weddings and dancing. The Mloteks also tracked down theatre music, operettas. poets, composers, authors of Holocaust poetry. Shoshtakovitch, Chana notes, was particularly taken with Yiddish music, as were Ravel, Prokofiev, Gershwin. Much of what Chana and Joseph identified would otherwise have never been known because so much was destroyed or lost in the war. A letter arrives from a survivor who had been a child in a concentration camp. One day, he recalls, a boy sang "My Yiddishe Mama" so movingly that the Nazi officer gave the Jews another bowl of soup. Chana publishes the account. A week later, a letter arrives: I was the boy who sang the song. A week later, another letter—I was in that camp, it happened. (The song, written in 1925 by Jack Yellen and Lew Pollack, was made famous a few years later by Sophie Tucker.) Other examples only hint at the extent of Chana Mlotek's sleuthing. She discovered, for example, the oldest piece of extant Yiddish music so far—an 1892 song by Sholem Aleichem, who wrote it in Odessa and was later set to music by a student.
American born (her parents came from White Russia, her husband Joseph from Poland after the war), Eleanor "Chana" Gordon, who got a B.A. from Hunter College and then took graduate courses at UCLA, where she met Joseph in 1948, was, along with Joseph, one of 12 participants in the first course in Jewish and Yiddish folklore at an American university. Why the great interest in Yiddish today, particularly in Eastern European countries and Germany? Chana needs no moment to reflect: Klezmer, for one, a movement to attract young people to music and Judaism. But she also points out that the third generation, moving away from assimilated parents who did not want to talk about their own parents or the Holocaust, is embracing Yiddishkeit, Yiddish culture, with joy, part of ethnic America's search for roots. The symbol of Yiddish folksongs, incidentally, is the Golden Peacock. Want to know why? Mach schnell to 15 W. 16th Street and to the remarkable Chana Mlotek.#
*YIVO (www.yivoinstitute.org), the Yiddish Scientific Institute for Jewish Research, founded in 1925 in Vilna, Poland (Lithuania) and since 1940, headquartered in NY, is "the world's preeminent resource center for East European Jewish Studies."