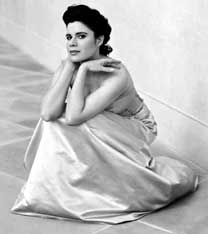 Careers:
Ana Maria Martinez, Opera

By Joan Baum, Ph.D.
It comes as a surprise to learn that this "beautiful woman with the fascinating voice," as the London Times referred to her recently, "one of the most sophisticated of lyric sopranos singing today," is just this month making her debut at the Metropolitan Opera. Perhaps one reason lies in scheduling—Ana Maria Martinez, the lady with the "velvety mezzoish half-tints in the mid and bottom range" and "gleaming top" notes, has been making debuts all over the country and in Europe, wowing audiences with her sound. Nonetheless, the Met is the Met—is she at all intimidated by doing Micaela in Carmen on that big, big stage, with only three days of rehearsal? She pauses, a modest laugh, an honest answer—not really. She knows the stage, having been a finalist in the 1993 Metropolitan Opera National Guild Council auditions. It's actually "a warm and cozy feeling" to be up there, she says, it looks smaller from that point of view, but "just don't look up," a friend had suggested, or "you'll be saying, Oh my God!" She's been on other stages, of course, all over the world, including Broadway, appearing at 19 as a Kit-cat girl in Cabaret singing "Money Makes the World Go Round."
For Ana Maria Martinez, however, it's music that makes the world go round, a passion she felt she was born to pursue as early as five, when she started to play piano and discovered she could play by ear. To her regret, however, she was not pressured to take lessons in theory. Though she holds a B.A. and M.A. in music from Juilliard, she had to learn ear training and sight-reading fast. Of course, conservatory training is a must for any serious musician but so is a well-rounded education, which includes the sciences as well as the humanities. So many operas, she points out, have their origin in great literature (though there is no Micaela in Prosper Merimee's novella, Carmen). She notes that Juilliard now has an arrangement whereby students who qualify can take courses at Columbia, and Columbia undergraduates can audition for Julliard. She is particularly pleased with this program because this curricular diversity builds on the demographic diversity of the student body at Julliard. And so, when she talks to high school students thinking about careers in music, she urges them to go for a bachelor's degree at a university with an excellent music program, not avoid discipline but at the same time not specialize to the extent of avoiding social skills. At 15 or 16, the voice is still too unformed, she tells them, and thoughts about life commitments premature. She also cautions those in their twenties, when the voice matures, not to let competition drive them too hard, especially if they want to be singing into their fifties and sixties.
Her interests have been wide and varied. Though she has always loved opera and has been singing with the likes of Plácido Domingo and Andrea Bocelli (a CD she made with Domingo in 2001 won the Latin Grammy Award for best classical recording), she also adores Latin music, particularly mambo. And there was even a time she thought of becoming an astronaut! She has been quoted as having observed that November 19 is not just the date of her Met debut but also the anniversary of the discovery of Puerto Rico, her birthplace—her mother is Puerto Rican, her father, Cuban. Her mother, she notes, has already announced she will be attending three performances of Carmen. Mature now in gauging her voice, Ana Maria Martinez has increasingly turned her attention to dramatic interpretation. Micaela, a small-town peasant girl, in love with Don Jose who leaves her for Carmen, is not the sweet, frail reed she is often made out to be. She goes to great lengths to find her prodigal lover and despite her romantic naiveté is a strong woman—she has "chutzpah" in confronting him, and her determination can be heard in the music, especially in her aria with its long sure legato line that she will undertake to make sound like "melted butter."
On November 8th fans will be able to hear her on a new CD: Ana Maria Martinez: Songs and Arias, and be grateful that thoughts of space flight never trumped those for the operatic stage. Besides, she got to meet a female astronaut recently when she and Bocelli, doing a concert in Houston, were given a VIP backstage tour of NASA. In the meantime, music lovers should get ready for her Met launch on November 19th.#