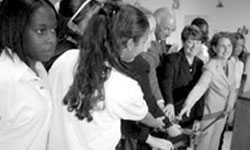 New Beginnings: Manhattan/Hunter Science HS
by Michelle Accorso
Imagine being part of the first group ever in a newly created community. This is the reality for the students at the Manhattan/Hunter Science High School.
"We are excited to celebrate the opening of this innovative new high school, a school that is academically demanding and that focuses heavily on the study of science," said Chancellor Joel Klein. "We need these kinds of specialized schools to make sure our students are prepared for the opportunities and demands of the economy of the 21st Century. Our partnership with Hunter College shows what we can accomplish when we work together to do what's right and necessary for our City."
As of now, the small school that is being currently housed in Martin Luther King Jr. Intermediate School on Amsterdam Avenue is home to only ninety-three students, the criteria for selection were achievement in science and academic skills, the drive to go to college and submitting-of an essay on why he/she should be chosen. Alton McCarthy, a new entrant at the Manhattan/Hunter Science High School, wrote an essay entitled "Accepting Alton" stating his interest in studying medicine. "I want to find cures to all kinds of cancers," Alton stated to the general encouraging consensus of attendees.
"We are proud to be a part of Chancellor Klein's call to change," said President of Hunter College, Jennifer Raab. The new high school, named after Irish immigrant Thomas Hunter, reflects his original high-spirited plan for education back for a revamping of a positive and encouraging learning environment. "Thomas Hunter spear-headed the professionalism of teaching in this city and this country," Raab stated.
According to Councilwoman Eva Moskowitz "Science is a foundation of global economy and yet hasn't received the emphasis on literacy and numeracy in New York City. That's what makes this school so wonderful."#

Education Update, Inc., P.O. Box 1588, New York, NY 10159.
Tel: (212) 477-5600. Fax: (212) 477-5893. Email: ednews1@aol.com.
All material is copyrighted and may not be printed without express consent of the publisher. © 2003.
---