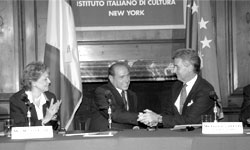 Cuomo, Berlusconi & Caperton Announce AP Italian Course
Representatives of the Italian government and College Board President Gaston Caperton announced the creation of an Advanced Placement Program® (AP®) Course and Examination in Italian Language and Culture.
Participating in the announcement at the Consulate General of Italy were Italian Prime Minister Silvio Berlusconi; Italian Ambassador to the United States Sergio Vento; Italian Consul General Antonio Bandini; New York State's former First Lady Matilda Raffa Cuomo, who spearheaded the Italian AP initiative; and representatives of the three sponsoring Italian American organizations: the National Italian American Foundation, represented by the Honorable Frank Guarini; the Order Sons of Italy in America, represented by Joseph Sciame; and UNICO National, represented by John Alati.
The development of AP Italian Language and Culture is the first step in a commitment by the College Board to further multiculturalism and multilingualism in secondary school education. Last June, the Trustees of the College Board approved in principle a plan for four new AP Courses and Examinations in World Languages: Italian, Chinese, Japanese, and Russian. The Trustees also agreed to evaluate support for potential new AP offerings in other areas of history and ethnic or cultural studies (such as African-American History, Latino Studies, and Asian Studies).
Caperton said, "On behalf of the Trustees and members of the College Board, I would like to thank Prime Minister Berlusconi for the Italian government's generous financial support in creating this new college-level course for American high school students. And we applaud the Italian American community for its determination and financial support on behalf of AP Italian, and Mrs. Cuomo for the combination of grace and tenacity with which she chaired the National AP Committee and coordinated this effort."
In addition, Caperton also acknowledged the American Association of Teachers of Italian for its support.
"Through the new world language programs, the College Board hopes to make a significant contribution to secondary school curriculum," Caperton said. "World events make it ever more obvious that a broad knowledge and understanding of other languages and cultures is essential for our young people." #
For further information, visit www.collegeboard.com

Education Update, Inc., P.O. Box 1588, New York, NY 10159.
Tel: (212) 477-5600. Fax: (212) 477-5893. Email: ednews1@aol.com.
All material is copyrighted and may not be printed without express consent of the publisher. © 2003.
---