Reforming Special Education. . . Again
by Michelle Accorso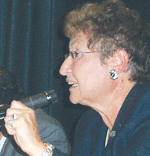 How can we best serve the city's neediest children? That was the question posed to the diverse array of panelists at a recent special education hearing housed at the New School. Panelists included Jill Chaifetz, an attorney for children's rights, Debbie Edwards-Anderson, whose youngest son, Jabari, was diagnosed 5 years ago with a learning disability, Carmen Farina, Regional Superintendent of Instructional Leadership Division 8, Alan Gartner, noted expert in special education issues, and Jill Levy, a noted educator and advocate for children with special needs as well as President of the Council of School Supervisors and Administrators (CSA). The Moderator, Liz Willen, has covered public education in New York City since 1992 and is most known for her career at New York Newsday where she won four awards from the Education Writer's Association.
The panelists, though all from different backgrounds, all seemed to agree on one important matter…finding the best and badly needed way to help children with learning disabilities receive the best education possible.
The discussion, which revolved around Children First (not to be confused with No Child Left Behind), was aimed at the reorganization of Special Education personnel. The overall number of Committees on Special Education (CSEs) will be reduced from 37 to 10 in order to align the CSEs with the school system's new structure of 10 Instructional Leadership Divisions.
"To put this issue in perspective," Willen said, "this is a school system of 1.1 million children, 1,101 schools, and serves 145,000 kids in special ed from ages 5 to 21 with all kinds of special needs including the most fragile and vulnerable of the city's students."
Willen then turned the discussion over to the panel of experts, starting first with Alan Gartner who expressed his frustration with the current state of special education. "We found extraordinary disproportionate themes in terms of minority students in special education," he said, "We also found a great deal of redundancy…things that were done in one level were continued on to the next. We also found an extraordinary amount of separation between general education and children with disabilities."
Gartner didn't just focus on the current situation with special education. He brought to the attention of the attendees a federal law passed back in 1975 titled Education for all Handicapped Children. "The most important word in that title is all," Gartner said. Congress, in an act of faith, said "we believe that the children are capable of learning. We believe education is so powerful, and that the people who work in education, (the teachers, principals and administrators), are so powerful that they can make a difference for the full range of children."
Jill Levy, who has been instrumental in the passage of several state laws, was the next panelist to speak. A mother of a child with a learning disability herself, Levy's passion is obvious when discussing the issues of special education. Levy drew our attention to a more personal view: "I had a discussion with my daughter and son the other night and asked them how they want to be treated," Levy explained, "They want to be treated like everybody else is treated. They want to have respect, they want to have dignity, and they want to be able to deal with their own issues in their own way. And they want to be accepted in the social world as well, as individuals. They want what you and I want."
This may seem obvious, but as Levy stressed, the labels we are given as children by psychiatrists, counselors, etc. are labels that can stick and unfortunately hinder what a child's true potential may actually be. As Levy stated herself, "I myself am not special ed, at least I don't think so. I wasn't labeled as such as a child."
"Who are we talking about when we talk about children with special needs?" Levy asked, "We're lumping them all together in a definition of children with special needs. Every one of those children, like every child, is a unique, independent individual. Some of who have greater needs, or greater strategies or different strategies than others. I've paid exceptional attention to the term of lumping kids with special needs together. We need to understand that we are talking about children who have very little cognitive ability whatsoever to children who are extraordinarily bright but they have diversified needs within that and yet we use the lump standard. If we do not recognize that and really address that in this plan or any other, then we are losing the whole idea of serving all children and their diversities."
Carmen Farina, who oversees 143 schools, spoke next about reforms taking place within the school districts of New York City. "I think that this issue is a philosophical one as well as a legal one. You can follow the rules and meet the needs or you can really believe that all kids can learn and then you see this in a very different way."
"I'm happy to say that we have started in our district, now our region, one of the first classes for autistic students," Farina continued, "We are starting a school for Asperger's syndrome. As Jill was saying, it's absolutely true that all kids are not the same, everyone has a different need." She continued by saying that special education classes should not stand out in a way that makes children feel different from their peers. "The only difference I should see in a special education classroom is that it's smaller," Farina said.
Jill Chaifetz, an attorney and advocate for special education needs, discussed some of the issues brought to her attention daily by parents of children with special needs. "We rarely have parents call and say, 'Everything's great. Just wanted to tell you.' What we hear instead is what is not going well. So what we try to do is individually serve those parents. Some of the most intensive work we do is with parents of kids with disabilities. The new organization has been an extremely interesting time at my office. Either the glass is half full or half empty, depending on how you look at it. Listening to Alan before I was shaking my head realizing that most of us on this panel are in the same place in terms of what we want to have happen, which is actually pretty radical. For many years, there were chancellors that were not interested in change and special education children's rights and needs were not addressed in any substantial manner."
The panel discussion at the New School indicated that reforming special education is an ongoing job. Though we may still be far from where we want to be, it's obvious that the issue of special education is now being taken seriously.#

Education Update, Inc., P.O. Box 1588, New York, NY 10159.
Tel: (212) 477-5600. Fax: (212) 477-5893. Email: ednews1@aol.com.
All material is copyrighted and may not be printed without express consent of the publisher. © 2003.
---