Dr. Cecelia McCarton Leads Symposium on Learning Disabilities
by Joanna Leefer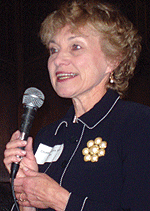 "How can I tell if my child has a learning disability?" "Will my son be stigmatized if he is officially classified as LD?" "I'm applying to schools for my daughter. How upfront should I be about my daughter's learning difficulties?" These were just some of the questions addressed to a panel of experts at the first symposium on Learning Disabilities presented by Resources for Children with Special Needs, Inc. (RCSP), and co-sponsored by the Parents League of New York and the NYC Parents in Action.
The symposium aptly named "Needles in the Haystack: How to Identify Learning Attention and Behavioral Problems Your Children Might Have" consisted of a panel of experts on learning differences. These panelists addressed a packed auditorium of concerned parents and teachers recently, at the Park Avenue Christian Church.
Panelists included such experts on learning styles as Judith Birsh, President, NY Branch, International Dyslexia Association, Dr. Alan Wachtel, Clinical Associate Professor of Psychiatry, NYU School of Medicine, Joshua David Sparrow, Associate Professor of Psychiatry, Harvard Medical School, and Dr. Paul B. Yellin, National Director, Student Success Programs, All Kind of Minds Institute. Dr. Cecelia McCarton, the founder and director of the McCarton Center for Development Pediatrics, moderated the panel. Special surprise guest Dr. Berry Brazelton, the renowned pediatrician, was present and sat with the panel.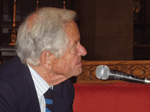 Learning Disorders covers a wide range of conditions that affect the way children learn. Some of the most common problems include dyslexia, a neurological condition that creates difficulties processing language, and often affects a child's skill in reading, writing, spelling, handwriting and sometimes arithmetic, and attention deficit disorder, the inability to sustain attention for periods of time. Asperger syndrome, another condition that is receiving more attention, is a neurological disorder that manifests itself as a deficiency in social and communications skills. These children have normal intelligence, and can relate facts, but are unable to express or exhibit feelings. One panelist described children with this syndrome as "not good with humor."
Many times children with one or more of these learning differences are mislabeled as lazy, inattentive or daydreaming. They begin school on par with other children, but slowly fall behind. One panelist told the story of a young patient identified with dyslexia describing herself as, "a sailboat without wind." In class, she felt like "everyone was green while I am red. "None of these conditions has anything to do with a child's I.Q. These children simply process information in ways not taught in a traditional classroom setting. If left unchecked these children can suffer from low self-esteem, depression, and often go through childhood feeling like failures. Dr. McCarton underscored the importance of diagnosis. It's also important to be honest with the school [about your child's deficits], she stated.
The panelist offered pointers on ways parents can determine if their child has a learning difference. Parents must be inquisitive; they must look for "windows in your child's life" to find clues. Parents can gain hints to their children's progress by looking through their children's backpack, going to school and looking in their desk, observing their after school activities, and noting how they relate to other children or friends. The best rule of thumb is to trust your instinct. If you think there is something wrong, there probably is. Once you determine your child has learning or behavioral problem, the next step is how to proceed to get a proper diagnosis and seek proper treatment.
Dr. T. Berry Brazelton is one of the pioneers in learning differences. He began working with infants and families 25 years ago. Based on his research and clinical practice, he founded the Brazelton Institute whose goal has led to the development of innovative service delivery models that target the changing health needs of children and families in today's society.#

Education Update, Inc., P.O. Box 1588, New York, NY 10159.
Tel: (212) 477-5600. Fax: (212) 477-5893. Email: ednews1@aol.com.
All material is copyrighted and may not be printed without express consent of the publisher. © 2003.
---