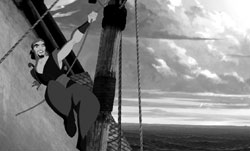 Summer Family Films: Sinbad; Legally Blonde 2:
Red, White & Blonde
by Jan Aaron
DreamWorks' "Sinbad: Legend of the Seven Seas," loosely follows the adventures of the notorious Arabian sailor-thief born over one thousand years ago in "The Arabian Nights." To tell their new animated tale, writer John Logan, (co-writer of the Oscar-winning "Gladiator,") and directors Tim Johnson ("Antz") and Patrick Gilmore, let their imaginations drift to different Roman and Greek mythologies for themes and add a dash of romance to their seafaring saga. The film is a blend of 2-D and 3-D animations. Adults accompanying kids will find this an enjoyable sit-through.
In a nutshell: the adventure starts when Eris (voiced by Michelle Pfeiffer), the delightfully slithery goddess of discord steals the "Book of Peace" and pins her heist on Sinbad (a hip voiced Brad Pitt). Sailing away to prove he is innocent and save the life of his best friend Proteus (voiced by Joseph Fiennes), Sinbad must travel to the realm where Eris resides, a fearful place where no one has been before. At first, he thinks of just sailing to Fiji. But, Proteus' beautiful girlfriend, Marina (Catherine Zeta-Jones) stows away to make sure Sinbad fulfills his mission.
In Eris' land, he and spunky Marina defeat all the nifty monsters—most fearsome is a mammoth swooping bird of snow and ice—but problems persist. Sinbad still must deal with the effects of Eris' golden "Apple of Discord," which turns friends into enemies when thrown into their midst. Does Sinbad break the spell and save his friend? See the film. (83 minutes, PG).
Tuck the kids in and take in "Legally Blonde 2: Red, White & Blonde" where pink loving Harvard law-grad Elle Woods, (the incomparable Reese Witherspoon) goes to Washington. There she turns her legal and fashion smarts on the DC establishment on behalf of animal rights and learns what it takes to get her legislation—legislated with the help of veteran comedian Bob Newhart as Sid, the doorman. Sally Field is fine as Representative Rudd who might have compromised her own liberal ideals. Surprisingly sharp! (PG-13; 95 minutes)#
Call 777-Film for timings for both movies.