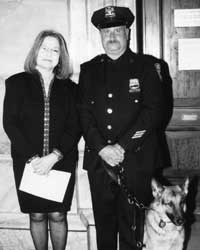 Mayor Bloomberg & Richard Cook Give 100 Year Association Awards
Recently, President Richard A. Cook, of the 100 Year Association presided over a ceremony at Surrogate Court in which $80,000 in public service and college scholarships were given to outstanding career civil service employees and their sons and daughters. This year marked the 40th anniversary of the granting of the awards which total more than $1,000,000 since its inception.
Mayor Bloomberg addressed the packed, attentive crowd underscoring the fact that "many scholarship winners are public school grads. For all its faults, the New York City public school system is better than any other in the US. I am thrilled to salute the exceptional work of the Hundred Year Association. This is a city that opens its arms to the tired, hungry and poor. The future has never been brighter." He summed up saying "This is a city of dreamers, of people who try to improve the lives of other people in the city."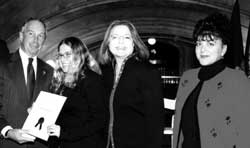 Gary Strong, Chair of the Awards Committee and head of the Queens public library gave a number of awards as did Jeffrey P. Klein, grandson of the founder of the awards, Isaac Liberman. Dr. Pola Rosen, publisher of Education Update and Janice Perna-Nicholas, Manager of the Hotel Wales and Franklin, jointly sponsored a scholarship for Brandeis student Wendy Silverstein. Wendy's mother, a probation officer, was extremely proud, citing her daughter's outstanding record at Cardozo High School and her mentor, English teacher Gene Mann. Among the companies represented as scholarship sponsors were Scientific American, JPMorgan Chase, and the Oratorio Society of New York. Recipients of college scholarships were students at Yale, Harvard, Sophie-Davis and Williams, among others.
Kenneth Forte, a Corrections Officer, received an award for rushing to assist at Ground Zero with his canine partner, Bullet.
Cook's final rem-arks summed up the sentiment of partic-ipants and observers alike: "We hope the public will be inspired by this view of city government."