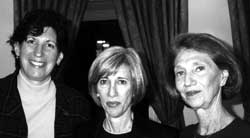 Grandparents' Council at NYU Child Study Center
Nearly four years after its creation, the Grandparents Council, an educational outreach program of the New York University (NYU) Child Study Center under the directorship of Dr. Harold Koplewicz, Professor of Medicine at the NYU Medical School. continues to serve as an invaluable resource to New York City area grandparents. The Council was established to provide a forum for grandparents to discuss and receive information and advice about normal childhood development and specific generational issues. Maureen Cogan, M.S.W., a founding board member of the Child Study Center and herself a grandmother of three, serves as the liaison to the Council meetings. Recently, Eva Cooper, a member of the Grandparents Council, graciously hosted a group of sixteen at her home, to listen to a talk by Susan Schwartz, a staff member of the Child Study Center. Schwartz spoke about the tests currently being used for both private and public school admission.
Grandparents participated in a vigorous discussion about the pros and cons of testing as well as their own uniques perspectives on the disproportionate emphasis and pressure of the testing process. Several grandparents concurred that despite their great love for their grandchildren, voicing displeasure should be kept under wraps. "After all" said one grandmother, "These are my grandchildren, not my children and I don't have the authority to dictate."
The grandmothers are clearly involved, intelligent and sensitive. Grandfathers were missing however and should certainly consider attending future meetings.
Beginning in February, the Council will host a Spring Lecture Series at the Center's 215 Lexington Avenue location. The cost is $150 for three meetings. To sign up, please contact Marie Mompoint at (212) 263-3653. For additional information about the NYU Child Study Center, visit www.AboutOurKids.org.#