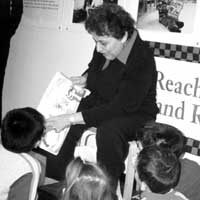 Arlene Alda Charms Children at Bellevue's Reach Out and Read
by Sybil Maimin
Waiting can be fun, even for children in a hospital waiting room, thanks to Reach Out and Read (ROR), a national pediatric early literacy intervention program that sees a child's visit to the doctor as a chance to bolster the importance of reading. At Bellevue Hospital's Pediatric Clinic, prize-winning children's book author and photographer, Arlene Alda, recently read from her work to a delighted group of children who were waiting their turn to see the doctor. She joined a group of about 50 volunteer readers at Bellevue, ranging from high school and college students to retired seniors, who each devote two hours a week to reading to young children and introducing them to the world of books while providing a useful model of interaction to parents.
There are 71 ROR programs in 50 hospitals and clinics and 500 volunteers in Greater New York; Bellevue is the oldest branch (since 1995). The program involves doctors and nurses as well as volunteer readers and is designed especially for the economically disadvantaged, explained Linda van Schaick, a child development specialist and dynamic director of Bellevue's ROR. Pediatricians are trained to speak to parents of the importance of reading to their children and present each parent and child with a developmentally appropriate book during routine visits. Books are donated or purchased and are arranged by age and language. ROR believes family culture must be respected and makes translations available in many languages including Bengali, Chinese, Creole, Arabic, Polish, Russian, French, and Bosnian. As explained by Dr. Alan Mendelsohn, associate medical director of Bellevue's Pediatric Resource Center and an avid devotee of the program, "I see medical problems but I also see children who are doing poorly in school. Until this program, there was limited opportunity for physicians to do something." ROR provides "a chance to do something wonderful for patients who come here." The program "empowers parents by giving them a book and showing how easy it is to use it to interact with their child." Dr. Mendelsohn has done research that shows ROR puts children about six months ahead of their peers in reading ability. The pairing of doctors and the literacy program works because physicians are trusted as advisors and frequent "well visits" in the early years provides regular contact. New York ROR is ably led by executive director Trish Magee.
Arlene Alda has had a broad career in the arts, first as a musician (she studied the clarinet in Cologne, Germany on a Fulbright and played with the Houston Symphony) and then as a photographer, with shows in leading galleries. Twenty years ago, seeing the positive reactions of parents and children to the humor in her photos, she began writing children's stories to accompany the images. The writing has grown in importance, and the story now comes first, illustrated with her photos or the drawings of an outside artist. She loves an audience of children and they respond to her. At Bellevue, she read from her book Hurry Granny Annie, Hold the Bus, a story whose intentionally silly plot involving red elephants and green goats on a bus had the children sitting at her feet riveted. Her 1 2 3 What Do You See? encouraged the children to use imagination as they recognized familiar numbers formed by her photos of everyday objects such as the legs of a flamingo forming a "4," a donut a "zero," and a curl of hair a "6." Entering the world of her young readers, she has written about going to sleep, Sheep, Sheep, Sheep, Help Me Fall Asleep, and getting up, Pig, Horse, or Cow, Don't Wake Me Now.
Alda, who grew up in The Bronx, has three grown daughters and seven grandchildren. She is married to actor/writer/director Alan Alda.#