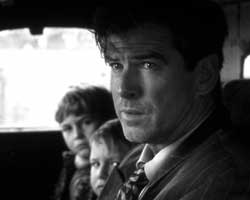 Just Love: Evelyn
Perky Potter:
Chamber of Secrets
by Jan Aaron
Atmospheric, interesting and enjoyable family entertainment, Evelyn is the true-life saga of an Irish father Desmond Doyle (Pierce Brosnan) who battled the Irish government for legal custody of his three children in a groundbreaking court case in 1953. It's David and Goliath theme might even carry over to classroom discussion.
The usually sleek Secret Agent 007, Brosnan here convincingly plays a hard-working, perpetually poor house painter and decorator and pub singer with his dad who lives in a Dublin housing project. When his wife runs off on him and their three kids for another man, the church and state remove the children and send them to different orphanages. While veteran director Bruce Beresford doesn't go too deep in to examining matters of church and state, he meticulously makes a convincing-looking period film.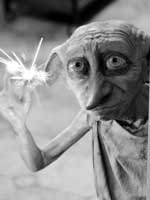 As nine-year Evelyn Doyle, (Sophie Vavasseur), adjusts to life with both good and bad nuns, Desmond first tries unsuccessfully to take his kids back. But then he vows to clean up his own act (he drinks too much) and, with help of a spirited barmaid, Bernadette, (Julianna Margulies), assembles a legal dream team willing to take on the Irish courts. Skeptical Michael Beattie (Stephen Rea), and his Irish-American colleague, Nick Barron (Aidan Quinn) take an interest in the case. But it isn't until they rope in the retired football champ, Thomas Connolly (Alan Bates) and renowned barrister, that they stand a chance of revising the Family Act Law. Quinn as the cool young Yank barrister and Bates as the feisty old champ are especially fine as is the assured young Vavasseur. But it's Brosnan's move beyond Bond that impresses most.
Also, you'll want to catch those three clever kids, Harry and best pals spunky Ron and brainy Hermione, in the charming new Harry Potter and the Chamber of Secrets. Round two for J.K.Rowling's beloved series, hits all the high points, sticking carefully to the text. This time, there's a sinister elf to give warnings, the three kids return to Hogwarts in a flying jalopy, where the immensely vain Kenneth Branagh has been added to its zany faculty. (Evelyn, 94 minutes. PG, released by United Artists; Potter, 2hrs 42mins. PG, released by Warner Brothers. Call 777-FILM.)#