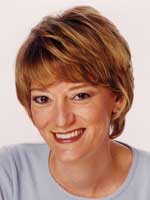 Lasers: State-of-the-Art in Dermatology
by Sybil Maimin
Ever wonder what happens to Westinghouse (now Intel) Science Talent Search winners? Well, one, Dr. Arielle N.B. Kauvar, board certified dermatologist and a fellow of the American Academy of Dermatology and the American College of Mohs Micrographic Surgery and Cutaneous Oncology, and a Westinghouse finalist in 1980, is on the cutting edge of the development and use of lasers in the treatment of cosmetic and non-cosmetic skin problems. Dr. Kauvar worked in an immunology lab while in high school and based her Westinghouse project on her study there of the movement of white blood cells. Also tempted by a possible future in art, she took art history courses, painted, and did free-lance illustrating while a student at Princeton, but spent her summers doing immunology. At Harvard Medical School, where she continued her work on white blood cells, the lab focused on skin immunology, leading her to the specialty of dermatology. Her journey of self-discovery continued during a residency at New York University Medical Center where, experiencing the satisfactions of working directly with patients, she decided on a career that combines her interests in research (lasers), art and aesthetics (improving skin appearance), and taking care of people (private practice). A fellowship in Mohs micrographic surgery, which allows the removal of skin cancer with microscopic control, and laser surgery put her in the forefront of her field. Involved in the development of modern laser technology and practice, she continues to be a pioneer in its many uses. She lectures, teaches, and writes about the procedure and is preparing a comprehensive textbook, Principles and Practices of Cutaneous Laser Therapy, to be published this year.
The first medical laser, created in 1960 to remove birthmarks, was successful but often left scars. In 1983, a laser was developed which eliminated marks without damaging surrounding skin, based on a concept known as selective photothermolysis. There are currently about 30 different types of medical lasers, each designed to treat specific problems and skin types. The machines are extremely expensive and, because of explosive development in the field, become obsolete in two to three years. Dr. Kauvar has 10 of the newest lasers in her office, one of a handful of dermatologists in the country able to offer a wide range of personalized treatment options with the most appropriate machine available.
Lasers have many dermatologic uses. Non-cosmetic applications include removal of birth marks (can be done at birth) and precancerous skin growth. Psoriasis and inflammatory skin disease can be treated. Lasers that target blood vessels can eradicate port wine stains and spider leg veins. Scars can be reduced or removed, and a recently approved machine can attack acne. Dr. Kauvar sees infants and children and believes the psycho-social benefits of early intervention are compelling. Cosmetic uses include rejuvenating and resurfacing the skin and removing sun spots, age spots, blood vessels and tattoos. A laser can remove hair. New and popular are non-ablative lasers that are even less invasive than the standard machines.
Dr. Kauvar has not encountered obstacles as a female in medicine. Her mentors (Dr. Joel Schwartz, whom she worked with on her Westinghouse project, Drs. Rudolf Baer and Jeanette Thorbecke, who supervised her lab work during college summers, and Dr. Rox Anderson, "a fascinating man" who is a pioneer in lasers) have all encouraged her. They and other teachers were "fundamentally important to [her] intellectual development and analytical skills." When she began, there were few women in Mohs surgery; today about half of all dermatologists are female. Her hours are long but she encounters few emergencies in her practice, allowing planned time with her physician husband and three children. Smart, focused, and excited about being at the cutting edge of medical lasers, she sees a future where patients around the globe will benefit from treatments undreamed of in the past.#
Dr. Kauvar is president-elect of the Dermatologic Society of New York.
Dr. Kauvar's office is at 994 Fifth Avenue, 212-249-9440.