A Hearing Impaired Teacher Helps Children Discover the World
By Tom Kertes

Linda Bodner has been teaching hearing-impaired children at Saticoy Elementary School in North Hollywood, California for 17 years. Since she's completely deaf in one ear, and has severe hearing loss in the other, Bodner brings an amazing depth of love, knowledge, and life experience to the job.
"I'm just so happy and fulfilled that I can help these children," she said. "And I am really excited about all the wonderful technological developments that have occurred in recent years. They make it so much easier for hearing impaired people these days to cope–and even succeed."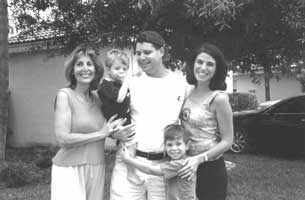 Bodner's childhood was anything but easy. She contracted chicken pox from her sister when she was just three months old; the high fever led to nerve loss. It was not until she was two, and not speaking, that her parents sought medical advice. Several doctors could not diagnose the problem and after three years of searching, one at UCLA "decided I was mentally retarded. They even wanted to institutionalize me. Thank God, my parents refused."
Finally, when Bodner was in the second grade, the famous John Tracy Clinic opened in Los Angeles. "They gave me a hearing test and finally found a severe hearing loss. My parents were so happy! At last, we knew what was wrong!" I was enrolled in a regular elementary school with a deaf and hard of hearing department in Los Angeles. All the children had hearing aids; Bodner wanted them too. For the next three years, she survived without hearing aids. She bit, kicked and was unmanageable because she couldn't communicate.
Bodner's life dramatically changed on her eighth birthday "when I got a hearing aid as
a present. My family said I became a different child, became more calm as a result of
being able to hear."
Academically, Bodner was doing fine. Social life, however, was another matter. "All throughout junior high and high school, people would say I was talking funny," says Bodner, who speaks almost perfectly. "It made me extremely self-conscious. It wasn't until college, when I started to take speech therapy classes, that I became more confident in my communication skills. College, overall, forced me to be a far more independent person, made me speak up for myself. It was a wonderful experience."
Bodner attended the University of Florida, then Oglethorpe College in Georgia and, finally, Cal State Northridge where she majored in psychology. In reflecting on the obstacles she had to overcome, Bodner felt that regular classes with few support services made her lack social skills and become lonely. She "mainstreamed" herself by being extremely active athletically, being in parades, being a good dancer. At Cal State, she became more social, "discovering a large deaf community," she says. "I grew up speaking orally but within this community we communicated by both lip-reading and using sign language. The warmth, camaraderie and respect within the hearing impaired community was wonderful," added Bodner. She went on to earn a master's degree in deaf education from Cal State.
At this point, in the mid-1960's, hearing aids began to improve and television started to use caption decoders as well. What a contrast to the boxed hearing aid Bodner wore on her chest as a child!
Today Bodner teaches in a school that uses a strictly oral program but, she's a great proponent of "total communication" (oral and signing). "It all depends on the child's needs, the parents' wishes and the extent of the hearing loss," she says. "But, overall, I find total communication a wonderfully liberating thing. Sign language is beautiful, especially in conjunction with music. Bodner is quick to point out that there are no secrets when people are signing. And it's very helpful in a dark room or restaurant where you can't read people's lips."
Of particular importance in Bodner's life was "seeing how deaf people functioned and assumed leadership roles, of being among other hearing impaired people who do so well."
Bodner is married, with a "wonderful son who's an engineer and two fantastic grandchildren." None are hearing impaired. She plays the piano quite well and, with the now available ultra-modern hearing aids, which have a telephone coil, she can converse normally on the telephone. In fact, this entire interview was done by telephone! Still, "the single greatest thing is the increased acceptance by society," she says. "There's really no more stigma attached to being hearing-impaired. It's a far more open, more equal situation. Now you can pretty much lead a normal, happy life. And that is a wonderful thing."#

Education Update, Inc., P.O. Box 20005, New York, NY 10001.
Tel: (212) 481-5519. Fax: (212) 481-3919.Email: ednews1@aol.com.
All material is copyrighted and may not be printed without express consent of the publisher. © 2002.
---