Kellogg's Awards Scholarships

Recently, parents, students, teachers and a variety of Kellogg's representatives–including Snap, Crackle and Pop and, of course, Tony the Tiger–gathered in the Hudson Theater in mid-Manhattan to honor the accomplishments of ten young people who have overcome significant obstacles. The children were presented with Tony the Tiger statuettes and entertained by the Backstreet Boy Nick Carter and performance artist Jean Francois Detaille. Rosie O'Donnell, who has awarded Kellogg's scholarships to special children on her television show, hosted the event.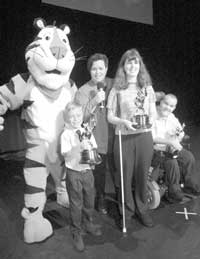 The Gr-r-reat Tony the Tiger Awards program was established to celebrate the 50th "birthday" of the Frosted Flakes mascot. Parents, teachers and other adults were invited to nominate children who exemplified the "Tony the Tiger spirit of achievement." Volunteer judges from national children's organizations selected finalists from among the applicants. These ten children, ages 9–14, flew with a parent from their hometowns to New York City to receive the awards. For many, it was a first visit.
"It's wonderful. The people are so nice here!" said Heather Bandy, 14. Heather, who is legally blind, was the winner of the 2001 National Braille Challenge and volunteers with other visually challenged students. All of the finalists, each of whom has a physical disability, work with various organizations dedicated to their medical conditions. Several had personally raised thousands of dollars for medical research.
Kellogg had announced that judges would select one grand prizewinner, who would receive a $10,000 scholarship and appear on a box of Frosted Flakes with Tony the Tiger. The other nine finalists were to receive $2,000 scholarships; however, at the ceremony's end, Jeff Monte, President of Kellogg's Morning Foods Division, announced that all ten finalists had earned the grand prize. Each will receive $10,000 and appear on the cereal boxes.
"I want the parents to know," said O'Donnell, "that I asked each child who they thought would be the grand prizewinner, and they all said they hoped someone else did. You've raised amazing kids."#

Education Update, Inc., P.O. Box 20005, New York, NY 10001.
Tel: (212) 481-5519. Fax: (212) 481-3919.Email: ednews1@aol.com.
All material is copyrighted and may not be printed without express consent of the publisher. © 2002.
---