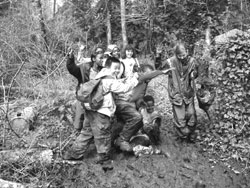 Students Learn Outdoors in the Pacific Northwest
by Brendan Kiley
Snuggled in the woods of Bainbridge Island, just a 35-minute ferry ride from Seattle, the newly-opened Puget Sound Environmental Learning Center (PSELC) provides students with new ways to get their hands dirty.
Founded in 1998, the PSELC seeks to yoke together science, technology and arts education, using hands-on learning in a verdant setting. Primarily offering four-day overnight programs for area students in grades three through six, the Center's attendees learn through exploring inter-tidal ecosystems, mapping the boggy areas of a watershed and testing a local pond's water quality before bringing their data back into the classroom for careful analysis.
"We want to take an experimental approach to serious learning," says Pat Guild O'Rourke, the Center's Director of Education. "We want the students to see the seriousness that can happen from learning when their experience comes first."
At the time of its official opening in September, the Center anticipated that over 7,000 students, children and adults will pass through its doors annually. In addition to overnight programs for elementary school students, graduate students, teachers and families can attend classes in nature photography, furniture-building and, using the Center as an example, sustainable design.

"We incorporated green materials to show the public what we can do with green building," said Communications coordinator Christine Llobregat. The PSELC's founders visited over 20 centers and conducted extensive group meetings with the island community before designing the site.
"Our buildings teach," explained Denise Dumochel, School and Teacher Programs Coordinator. In the classrooms, students stride across floors made of bamboo, cork and recycled tires and study on countertops made from recycled yogurt cartons. The Center boasts passive and active solar energy and a "living machine"–a wastewater treatment system utilizing plants. "We try to model developments in sustainable design," Dumouchel said, "which is a dream for many residential programs I've worked for before."
After the success of a ten-school pilot program, the PSELC is booked through the 2002-2003 school year. The Center, however, carefully tries to balance and represent the total variety of the Seattle area. Private and public schools from districts urban and rural, wealthy and needy, have been encouraged to participate. According to Dumouchel, the Center aims at providing education with powerful personal experiences: "The affective domain has to come first."
The programs seem to be working. Besides coming away with a greater education about the interrelatedness of human and ecological systems, students have learned how to get along with one another. This success fulfills one of the Center's primary missions–education that provides an integrated sense of social and ecological stewardship.
Dumouchel's favorite anecdote involves a group of homeless students who entered the April pilot program. After they returned to their regular school, their recess monitor called the PSELC, wondering "what it had done to them."
"For the first time, the kids were playing together without trying to hurt each other," Dumouchel said. "A lot of this relies on our ability to meet the children where they are when they arrive. It's a very powerful experience for a lot of these kids."#

Education Update, Inc., P.O. Box 20005, New York, NY 10001.
Tel: (212) 481-5519. Fax: (212) 481-3919.Email: ednews1@aol.com.
All material is copyrighted and may not be printed without express consent of the publisher. © 2002.
---