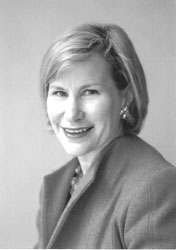 Profiles in Education
Laurie Tisch-Sussman: Creative Solutions to Art Education's Woes
by Marie Holmes
Laurie Tisch-Sussman has always had an idealistic streak.
"At the University of Michigan I kind of majored in the anti-war effort," she says. Sussman graduated, with a degree in education, "thinking I was going to stop the war."
Friends joked at the time that her efforts had been a little too successful, for the war soon did come to an end, leaving Sussman without her cause.
She then moved to Park City, Utah to become a "ski bum." "I didn't know what [that] was, but I knew that no one else in my family had done it."
Fired from her waitressing job–"I still had that kind of rebel thing"–Sussman found work as a substitute teacher, then as a full-time Spanish teacher. She became involved with the Kimball Arts Center in Park City, helping out with fundraising efforts.
After five years of "ski-bumming," teaching, and fundraising, Sussman came to New York, where she worked in advertising, sales and promotions and eventually married.
She remembers having a conversation with a friend when her daughter was a few months old and voicing "that familiar moan of women with children–should I work full time? Part time?"

The friend mentioned a fledgling institution then known as the Manhattan Laboratory Museum (now the Children's Museum of Manhattan–CMOM). As it has to many other mothers of young children, the flexible schedule and community focus of the non-profit world appealed to Sussman. She served as Chairperson of the museum's board for over a decade, overseeing its dramatic growth, and still serves as Honorary Chair.
In the mid-nineties, the Annenberg grants made news in the New York "foundation world." A program to create small schools was the first effort in the city funded by the Annenberg foundation, which had pledged $500 million to public education. At the time, there was some talk about a second Annenberg program focusing on the humanities.
Then Commissioner Chapin pitched the idea to secure Annenberg funds to put arts back into the schools to Chancellors Cortines and Crew. Chapin was persistent, says Sussman, and then Schools Chancellor Rudy Crew was supportive of the plan. A firm called Art Visions was hired with funding secured from the Diamond Foundation to prepare a proposal to the Annenberg Foundation. Hollis Hendrick came on board as Executive Director after the Foundation awarded its challenge grant. Sussman was asked to chair the newly formed Center for Arts Education.
"I was really kind of ready not to do it," she recalls. "I didn't really want to take on anything that big." When proposing the plan to education professionals, "everybody said, 'great idea, impossible execution.'" But with the encouragement of friends, Sussman finally agreed to steer the effort.
From 1996-2001 the group managed to raise $24 million in public and private funds from the Board of Education, Department of Cultural Affairs and private donors to secure Annenberg's two-for-one matching grant. In the first grant round in 1997 over 400 schools submitted proposals.
To apply for a grant from the Center for Arts Education, schools are required to describe, in a formal proposal, how they plan to partner with existing cultural institutions to enhance their arts curriculum as well as how they will sustain these programs after the grants run out. During the first 5 years, the Center for Arts Education awarded over $21 million to 81 school partnerships.
The Center for Arts Education has expanded its activities to include parents as partners, a grants program where parents and children participate in arts activities in their schools. There is also an internship program that places high school students in arts-related businesses and organizations. Two years ago the Center launched the "4 R's" advertising campaign (subway posters read, for example, "Reading, Writing, Arithmetic, Rhythm") designed to raise public awareness.
Prepared to close in 2001 when the Annenberg funding ended, focus groups and casual conversations convinced Sussman and her co-workers that they should stick around.
That left the question of money, and whether the new schools chancellor would offer BOE funds. Based on the Center's new strategic plan, Chancellor Levy pledged $2.5 million. Donations from private foundations and individuals followed which earned the Center extended funding in the form of a one-to-one "challenge" grant.
This June, the Center awarded 31 new schools with three-year grants of $100,000. At PS 142, artists from Inside Broadway and Mark DeGarmo and Dancers will set up residencies, hold professional development workshops and perform for the students. At the High School of Communication and Technology, dancers from Dance Wave will teach dance to the students during their physical education classes and will train teachers in dance instruction. Partnership institutions range from small to large and are spread throughout the boroughs, from the New York City Philharmonic to the Snug Harbor Cultural Center in Staten Island.
"It's lunacy that you've got this city and no arts education," says Sussman. "It is like growing up in Bermuda and not learning how to swim." She believes that even modest funds can help "marshal the resources."
"We're in a pretty daunting fiscal situation right now," she says, acknowledging that Chancellor Klein and other city officials are facing difficult decisions. "But I think it would be difficult to cut the arts again. There's too much awareness."#

Education Update, Inc., P.O. Box 20005, New York, NY 10001.
Tel: (212) 481-5519. Fax: (212) 481-3919.Email: ednews1@aol.com.
All material is copyrighted and may not be printed without express consent of the publisher. © 2002.
---