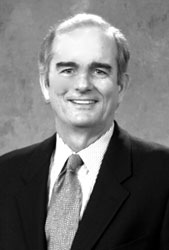 College President Series:
Gregory H. Williams: President, City College
by Marie Holmes
"My father somehow developed this great thirst for knowledge," says Gregory H. Williams, who became City College's 11th President on August, 2001.
"Thirst" is certainly an understatement. Williams' father, an African-American living in Indiana, was so determined to go to college that he spent his nights studying by the light of a coal oil lamp. "In the 1930's," explains Williams, "African-American high school students in the State of Indiana were relegated to technical programs; the boys in Industrial Arts, the girls in Home Economics."
When his father was a senior in high school he spent his schooldays constructing a house adjacent to the campus of Ball State University, where President Williams eventually earned his undergraduate degree. Too poor to spend ten cents on bus fare, Williams would pass the house his father had built every day on his walk to class, filled both with pride and indignation upon seeing this landmark to his father's struggle. When Williams' father applied to Howard University his application was rejected for lack of academic coursework, a result of being in the technical program. Determined to go to college, however, his father returned to high school for another year in order to earn the academic credits required for admission. He studied for a year at Howard, although he never earned his degree.

"The obstacles he faced didn't extinguish his desire for education and his determination to inculcate that in my brother and me," Williams said. A fine basketball player, Williams wanted to spend one summer sharpening his court skills. His father, however, required him to attend summer school. He believed that education would one day open doors for me that were closed to him, and he was right," says Williams. His father encouraged him to read and they often took trips together to the Christian Science reading room. This quest for education and knowledge provided some stability and direction for Williams amidst the racial turmoil of his childhood, which is detailed in his gripping memoir, Life on the Color Line: The True Story of A White Boy Who Discovered He Was Black.
Now an experienced college administrator with five earned degrees, including a J.D. and Ph.D. from The George Washington University, as well as three honorary doctorates, Williams is well aware that his experiences are not merely anecdotes of life in the racially-divided America of the first half of the 20th century.
"Over three quarters of our students are members of minority groups and over half come from families with incomes of under $25,000 a year," says Williams. "According to the latest edition of U.S. News and World Report's America's Best Colleges, City College is the most diverse campus in America where Blacks are the largest minority group," he added. Blacks make up around 30 percent of CCNY's student population, while Hispanics account for 26 percent and Asians around 14 percent. "That is what makes City College the most significant ladder of upward mobility in New York City and also in America," Williams said.
He may well be correct. As the flagship campus of The City University of New York, with increasing enrollments now topping 12,000 City College constitutes the core of the nation's largest urban university.
Like colleges across the country, new procedures impacting immigrants without documentation have caused difficulties for some students. Since 1989 The City University has permitted students who could prove residency in New York State but did not have official immigration documentation to pay the resident tuition rate of $3200 per year. When administrators realized that this process was technically in violation of 1996 federal legislation, the policy was put in jeopardy. On August 9th, however, Governor George Pataki visited CCNY to sign the Immigrant Student Legislation Act, which allows New York City high school graduates without legal immigration status to continue to pay resident tuition rates at both the City and State Universities.
"These students don't have the resources to pay out-of-state tuition and that would [have] effectively closed the door to higher education for them," says Williams, who noted that City College was founded over 150 years ago to educate the children of the working class and immigrants.
He cited the example of a recent student who was raised in a rural mountain region of Mexico, came to New York, washed dishes during the day and studied English at night. "He eventually enrolled at City College, has an outstanding academic record and plans to earn a Ph.D."
Williams understands what it is to overcome obstacles in order to receive an education. While attending college he worked full-time as a deputy sheriff, often more than 40 hours per week. "I managed to graduate in four
years so I know it can be done. I can identify with the struggles of today's City College students, most of whom must work while attending college. I tell them not to get discouraged, and that if they work hard and keep their goal in mind they will succeed."
The most popular major at City College is psychology, Williams estimates, while engineering and architecture are also student favorites. CCNY boasts the only public schools of engineering and architecture in New York City. Other popular programs include Sonic Arts (sound engineering)and a new undergraduate major in biomedical engineering.
"What City College has demonstrated," he says, making no effort to hide his gentle Mid-Western accent, "is that you can have a very diverse environment combined with very high quality programs."#

Education Update, Inc., P.O. Box 20005, New York, NY 10001.
Tel: (212) 481-5519. Fax: (212) 481-3919.Email: ednews1@aol.com.
All material is copyrighted and may not be printed without express consent of the publisher. © 2002.
---