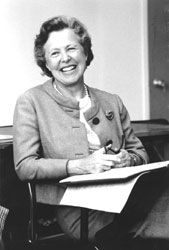 $4 Million Gift Launches Sally Kerlin Institute

Sarah "Sally" Kerlin '36, demonstrated a lifelong commitment to Bank Street. After graduating from Radcliffe in 1934, Sally considered becoming a doctor. Then a friend told her about a new school for teachers with a unique progressive philosophy of education that was starting up in an old warehouse.
A first visit impressed her so much that she chose to enroll at Bank Street as a graduate student. For the next sixty years, she served Bank Street as a student, teacher and alumna. She became a member of the Board of Trustees in 1954, and served as Board President from 1956 to 1963. In 1998, she became a life trustee, one of only five ever elected.
Sally embodied Bank Street's kind of independent thinking, and she also exemplified compassionate giving. In her many years at Bank Street she was particularly committed to both environmental education and hands-on learning. In December 2001, she and her husband, Gilbert Kerlin, put their interest in the environment into concrete terms: they established the $4 million Sally Kerlin Endowment for the Teaching of the Natural and Environmental Sciences.
Sally died on December 23, 2001, at the age of 89, but her legacy continues—as it has for three generations. Her daughter, an alumna, now serves on the Board of Trustees and a granddaughter earned her master's in 2000.
In addition to the Kerlin gift, which benefits all programs in the institution, Sally left in her will an additional $400,000 unrestricted bequest to the Bank Street College Endowment Fund. This gift helps ensure that the College has the needed funds to continue providing the unique Bank Street education it always has.#

Education Update, Inc., P.O. Box 20005, New York, NY 10001.
Tel: (212) 481-5519. Fax: (212) 481-3919.Email: ednews1@aol.com.
All material is copyrighted and may not be printed without express consent of the publisher. © 2002.
---