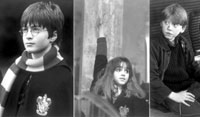 Wizardry on the Screen: Harry Potter and the Sorcerer's Stone
By Jan Aaron
When I saw Harry Potter and the Sorcerer's Stone, I made sure not to sit next to any "Muggles" (author J.K. Rowlings term for "non-magic folk"). My companions were if not, in fact, enchanters, indeed enchanting. Nine and 10-year-olds, they knew every word of the Potter book. (Children should know the book to enjoy the film.)
Afterward, I got the big news: They — and the other Potter fans rapt in the huge theater— were pleased. While the movie wasn't perfect in their terms, none of my young friends would have changed a thing.
Indeed, director Chris Columbus (Home Alone), who directed and co-adapted the book with screenwriter Steve Kloves, (The Fabulous Baker Boys), have managed to produce entertainment that remains faithful to its source. While big on special effects, the movie also captures the small moments of this oversized adventure.
Youngsters always have been intrigued by stories of children trapped in strange hostile households where they are not appreciated. And Harry Potter (Daniel Radcliffe) is just that, an orphan condemned to living with a nasty aunt, uncle and their spoiled son. Fortunately, Harry discovers on his 11th birthday that he is in fact the child of wizards and soon finds himself on a train chugging through the countryside to Hogwarts School of Witchcraft and Wizardry. Among the wonderful things about Hogwarts, which looks like an idealized English boarding school, is that Harry is already a celebrity who has inherited remarkable powers.
Here he can refine his magic, make friends with his classmates, especially Ron Weasley, (Rupert Grint) and Hermione Granger (Emma Watson), two superb young actors, and learn about the good and evil forces all around him. Harry's first term also includes learning the airborne, broomstick-riding no holds-barred game Quidditch; a form of fighting-chess in which pieces smash one another to bits, and a confrontation with a three-headed black dog.
Among a cast which features almost every great British actor, a scene-stealer is a talking hat ... the "The Sorting Hat", the school's way of assigning dorms to students. Robbie Coltrane's Hagrid and Maggie Smith's Professor McGonagall are also terrific, as are most others.#
(150 minutes, released by Warner Bros. Pictures, PG, contains scary, noisy things. For venues: 212-777-Film).
Education Update, Inc., P.O. Box 20005, New York, NY 10001. Tel: (212) 481-5519. Fax: (212) 481-3919. Email: ednews1@aol.com.
All material is copyrighted and may not be printed without express consent of the publisher. © 2001.
---