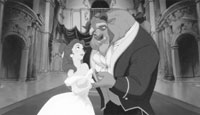 This Beauty Is No Beast!
By Jan Aaron
Got those post holiday blues? Here's a quick picker-upper. Grab the kids and go to Beauty and The Beast. Hold it. No yawning, please! This is a new special edition Beauty and the Beast...the 10th anniversary Giant Screen edition! See it at Loews Imax Theatre. Now there's a mammoth treat!
Originally released in 1991 to great acclaim and still a big hit on Broadway, the timeless classic has been painstakingly reformatted one frame at a time to make its debut on the Giant Screen. Adding excitement to this new release is the introduction of a newly animated six-minute musical sequence that features the song, "Human Again."
The Giant Screen format brings fresh drama to this beloved fairy tale. It makes you feel part of the movie. Expect sighs from the little ones as Belle whirls in her gorgeous gown in the beautiful ballroom six stories high or chooses her book from the castle's Everest-high library. Little girls will notice Belle's fashionable manicured fingernails, and everyone will be enchanted by the Alan Menken score and songs by him and the late Howard Ashman and intricate animated choreography.
The timeless story, embellished for the film, follows beautiful Belle (voiced by Paige O'Hara) who finds escape from her ho-hum life and the unwelcome advances of the boorish Gaston (voiced by Richard White) — by reading books (to the delight of parents and teachers everywhere!). When her bumbling dad stumbles onto the castle of a hideous beast

(voiced by Robby Benson), he is taken prisoner. Brave Belle comes to rescue him and takes her dad's place. With the help of the castle's bewitched staff — a candelabrum, teapot, and clock — Belle sees beneath Beast's boorish exterior to discover the tender heart of a human prince. Meanwhile, Gaston proves to be the real beast leading to a dramatic confrontation and ultimately happy ending.
The films' star-studded cast also includes Angela Lansbury, Jerry Orbach, David Alan Stiers and Jo Anne Worley. As a result of their talents and the gazillions behind-the-scenes Disney wizards, this Giant Screen Beauty and the Beast is Huge Entertainment!#
(90 minutes, G, presented by Walt Disney Pictures, at Loews Cineplex Lincoln Square and Imax; call 50-Loews).
Education Update, Inc., P.O. Box 20005, New York, NY 10001. Tel: (212) 481-5519. Fax: (212) 481-3919. Email: ednews1@aol.com.
All material is copyrighted and may not be printed without express consent of the publisher. © 2001.
---