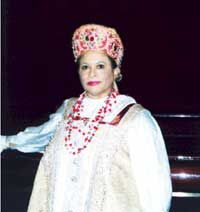 Beverly Withers: One Woman's Journey To The Opera
By Marie Holmes
Beverly Withers, a soprano in the Metropolitan Opera Chorus, has been making music for as long as she can remember. She began taking piano lessons at the age of seven, and "practicing was always a delight." Since the piano stood in the family living room, well within everyone's earshot, Withers' family often had to force her to stop practicing. "I actually remember the day that they had to peel me off the piano bench," jokes Withers. Her love of music soon blossomed into what Withers herself describes as a "driving, relentless urge to sing."
Withers' early repertoire included mainly gospel and spiritual songs. "Some of the fondest memories I have of my youth are of singing in my church choir." By the age of 17, Winters was playing the piano and the organ at her church as well as serving as choir director. She also sang in a local rock and roll group.
While the church provided her with certain outlets, musical opportunities in Somerville, NJ were limited. "I grew up in a blue-collar town where there was actually no exposure to classical music at all," describes Withers, "so people really didn't know where I could take my
talent."
Withers married and pursued a career in business, but soon realized that "something was missing." She credits a number of mentors and role models for leading her to a career in classical music. Alfredo Filipigni of the New Jersey State Opera "had such confidence in my ability," recalls Withers. "He was influential in getting me to study seriously." Withers also studied with Dorothy Maynor, a famous recital artist who turned to the concert circuit because racial barriers prevented her from performing in opera companies, even though she had learned a hundred operatic roles. She describes Maynor as "very demanding–because she knew that we could deliver," and says that she was "inspiring in every respect."
Withers also admired artists such as Leontyne Price and Marian Anderson, "for their voices and their dignity."
The hectic lifestyle of a solo singing career was not a possibility for Withers at this point in her life. "I had been married, and I found myself a single mother; the logical career option for me was the chorus of the Metropolitan Opera. That year, fortunately for me, there was a soprano opening."
"Having to support my family was the most important thing to me and that was a great obstacle," explains Withers, who considers herself lucky to be counted among the small number of musicians who make a living with their art.
"I feel very proud and privileged to have been a member of the Met chorus for the past 20 seasons, and I will continue to give it my all until the time I retire, at which point," she adds, "I would like to mentor some younger singers."
Withers says that before becoming a mentor she would like to study vocal pedagogy, for she believes that music teachers have a great responsibility in shaping a student's voice– "that fragile and precious gift that God gave them."
Her advice to young students of music and other subjects, is "to learn as much as you
can. Never stop asking questions of those with the knowledge to help you." With a wealth of community and junior colleges, state schools and scholarship programs, Withers believes that "education is affordable to everyone." She urges students to "stay in school and find a way to go to college. "There is a way for you."
Withers would advise young musicians to join as many musical organizations
as possible, to study an instrument such
as the piano, and, of course, to find a
mentor. #
Education Update, Inc., P.O. Box 20005, New York, NY 10001. Tel: (212) 481-5519. Fax: (212) 481-3919. Email: ednews1@aol.com.
All material is copyrighted and may not be printed without express consent of the publisher. © 2001.
---