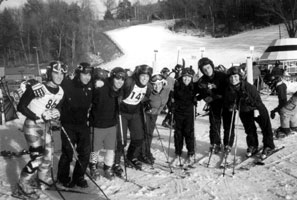 From the City to the Slopes:
Columbia's Ski/Snowboard Team Dedicates Its Time To the Outdoors
By Aleksah Visco
It is 6:30AM on Sunday morning. With my skis strapped over my shoulder and my pack and ski boots hanging off my back, I hike across 116th and Broadway through Columbia's campus to Amsterdam Ave. where I meet the other members of the team and board a charter bus. I think it is often overlooked, but it takes more than just motivation for any college student to be up at this hour for whatever reason. In this instance, I would say it is dedication that drives the core team members of the Columbia University Ski/Snowboard team to rise so early. "If I'm skiing, I can get up," states Senior Rick Siger who has been a member all four years of his college experience.
As a result of living in Manhattan at sea level, the nearest ski area is in Vernon, NJ at Mountain Creek and the trek can be anywhere between 1-2 hours depending on traffic. On a week with two races, we not only practice Wednesday evenings and Fridays, but we also have to be up in the morning hours on Saturday and Sunday to participate in the races. But for us, it is the opportunity to do what we love: be outside in the snow (even if it is man made), and compete with nearby schools (Princeton, Rutgers, Lehigh, Fairfield, and Lafayette). Our reasons for being driven and devoting so much time to this club sport vary. Senior Christina Schenk from Hawaii declares, "If you have to suffer through the coldest months of the year, you may as well enjoy being outside."
The Columbia Ski/Snowboard team has only existed in the past 15 years. As we are growing rapidly, more people are joining and the performance of the team is increasing. While the men's team has consistently competed in Regionals, last year was the first year the women's ski team made it also (to do so the team has to be one of the top four teams in the league). Both teams are looking forward to participating in Regionals again this season in Toggenburg, NY.
Coming home after midnight on Wednesday night might make one question why we commit (about 35 hours a week) so much of our limited time to participate in this sport. For former members of the crew team like sophomore John Friar, the snowboard team is much less of a time commitment (the crew team practiced twice daily). However, do not be mistaken about the hours each member contributes to the team. Sophomore Nai Nan Ko had to sacrifice his participation in the Sounds of China and the Asian American Alliance clubs to be able to dedicate his time to the team. As an experienced racer through all four years of high school in Massachusetts, he helps other teammates with technique. As Nai states, "There is nothing more gratifying to me than helping teach people from my school to do what I love and being on this team gives me that opportunity."
With the dedication of being a member of the ski/snowboard team comes a cost, both financially and personally. To be on the team you need to have your own equipment, pay the $300 of transportation, ticket, and USSA race fees, and know how to ski or snowboard. The financial constraints eliminate a large number of people at the university. Putting the price into perspective, Mary Chotebortsky explains, "If you consider the number of days you get to spend on the mountain for the price of joining the team compared to what it would cost for daily lift tickets and transportation from Manhattan, it's actually a good deal."
Committing to the team can also place religious constraints on members. For Sabbath-observing members of team, Friday practices and Saturday races are not an option. The advantage of the team being a club sport allows for these members to participate, even though they cannot be present at every event.
After a long day of skiing, the majority of us are pretty tired. On the dimly lit bus back to New York from Mountain Creek it is not uncommon to see people completing their homework on topics from a cryptography problem set in Number Theory to readings from Immanual Kant for Contemporary Civilizations. Other teammates socialize and ignore any work waiting for them in their dorm. As native Vermonter and sophomore Chris Keitel justifies, "I love to ski and it has always been a part of my life. It doesn't matter how much work I have after practice, to me all that matters is that I was able to go skiing."#
Education Update, Inc., P.O. Box 20005, New York, NY 10001. Tel: (212) 481-5519. Fax: (212) 481-3919. Email: ednews1@aol.com.
All material is copyrighted and may not be printed without express consent of the publisher. © 2001.
---