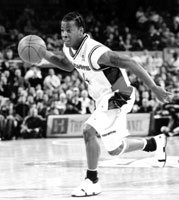 Andre, a Giant Walk-On at St. John's
By Tom Kertes
If you look up the definition of a "college basketball walk-on" in Webster's, you'll see the expression "practice fodder." Walk-ons are hoop-enthused regular college students who, without a basketball scholarship, try out for the team for the mere honor of practicing with–and getting beaten up by–the "real players." They go on road trips, and sit on the bench during games. "These are the guys who only play when your team is either 30 points up, or 30 points down," said St. John's coach Mike Jarvis. "And sometimes not even then."
Yet, in a recent game against Seton Hall, something really strange happened. Watching St. John's take the floor, you saw a guy even the most ardent Red Storm fans have never seen before–and he was in the starting lineup. Not only that, this mysterious Masked Man stayed in the game for a full 37 minutes, playing in even the tightest moments of an important Big East contest–and did this for one of the top college basketball teams in the country.
He didn't do badly, either, scoring nine points and grabbing eight big rebounds. Intense research revealed that "The Great Unknown" was 6-4 junior guard Andre Stanley–a walk-on, the first of that obscure breed to start for St. John's in 24 years.
"I guess those 5:30 a.m. wake-up calls have finally paid off for him," said Jarvis with a warm smile, evincing a great affection for the kid.
Understand that, these days, about as many college students get up at 5:30 than start as walk-ons for top college teams. That Stanley does both speaks loudly to the character of this very unusual player. Stanley played at New Utrecht High School in Brooklyn, then John Jay, and went to Globe Institute junior college. He did get scholarship offers from some "lesser" Division I basketball programs, such as East Carolina, St. Francis, and Quinnipiac.
But his mom, Stephanie, who was suffering from severe diabetes, lost a leg at this point. And, Andre decided to stay home with her in Brooklyn. This meant no basketball scholarship and no free ride. It also meant walking on at St. John's, a top program that would have never considered recruiting him in a million years–and getting up at 5:30 every morning for the two-hour ride to Queens for practice.
"It doesn't matter," said Stanley. "My mom brought me up all by herself. Without her, I'd be nothing. Now she needed me. She almost died. Me being around helps her staying on top of her insulin. It puts her in good spirits. This was the least I could do for her."
Needless to say, Stanley is the first to practice every day–and the last to leave. "I always thought I could play at this level," he said. "But I knew of the reality of my chances. I was a walk-on. But I just kept on working hard and waiting for my shot."
Once he got it, Stanley took full advantage. He stayed in the Red Storm starting lineup for the rest of the season, contributing quietly, consistently, but immensely. "He's just what we needed," Jarvis said. "The kid's a walking role-model of what hard work and total commitment can accomplish. I just hope my regular scholarship players paid attention."
Stanley also pays attention in class, carrying a B average in Sports Management. "I hope to be an NBA General Manager one day," he says. Don't bet against him.
Jarvis wouldn't. "Those are the guys who do the best in life, the scrappers," he said. "I will never forget what Andre has done for this team. The ones who ask for the least and do the most are the ones you remember the most."#
Education Update, Inc., P.O. Box 20005, New York, NY 10001. Tel: (212) 481-5519. Fax: (212) 481-3919. Email: ednews1@aol.com.
All material is copyrighted and may not be printed without express consent of the publisher. © 2001.
---