Secrets to Beating
the Cost of College

By David Michaels
As the parent of a college-bound student, youíre well aware that the average cost of a 4-year college education today is between $40,000 - $120,000. If youíre like most folks, youíll probably end up mortgaging your house to the hilt, or spending your entire lifeís savings to muster up enough money to send your child to college. Or, even worse, if you donít have a lot of home equity or money in the bank, youíll end up sending your child to the least expensive school rather than the best college they can get into.
What if I told you that, in most cases, you donít have to make these painful decisions . . .
In fact, many families discover they can send their child to an expensive private university for less than the cost of a state college! College Aid Solutions has personally helped parents send their children to universities that they never thought they could afford . . . And thereís a good chance that they could do the same for YOU! Just as a good CPA can minimize your tax liability, CAS, Inc. can help you get more money for your childís college education.
Remember, financial aid is awarded on a first come-first served basis, so it is imperative that you start your planning immediately. For more information, call (718) 224-6836 or e-mail CAS at at AIDEXPERT@hotmail.com.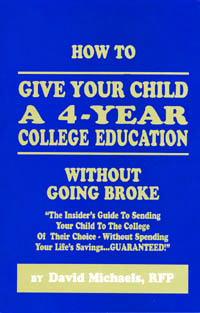 Education Update, Inc., P.O. Box 20005, New York, NY 10001. Tel: (212) 481-5519. Fax: (212) 481-3919. Email: ednews1@aol.com.
All material is copyrighted and may not be printed without express consent of the publisher. © 2001.
---