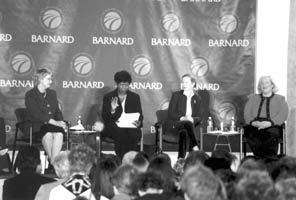 Barnard Summit: Women, Leadership, and the Future
By Jessica Shi
Barnard College recently held a day-long summit which aimed to address the importance of women as leaders in our society and the challenges women face in achieving gender equality. The venue of the summit seemed to fit perfectly with Barnard's reputation as one of the nation's top liberal arts colleges for women. It is affiliated with Columbia University.
Three distinguished panels of prominent women leaders headed the discussions attracting over 1,000 attendees from the tristate area. The topics of the panels were: Women and the Public World: Do Women Leaders Make a Difference?, The Future of Family and Community: Who Will Do 'Women's Work'?, and Women of the World: Lessons from Abroad.
Among the panel were distinguished political, business, and educational leaders such as Former Attorney General Janet Reno, the first female three-star general Claudia Kennedy, Governor of Massachusetts Jane Swift, Chief Financial Officer of JPMorgan Chase Dina Dublon, Professor at Harvard Business School Rosabeth Kanter, President of Catalyst Sheila Wellington, President of The White House Project Marie Wilson, Marian Wright Edelman, Founder, Children's Defense Fund and many more.
President Judith Shapiro of Barnard College opened the summit by stating that "We are at historic crossroads in gender relations where, for the first time in the history of western civilization, women and men are on the verge of sharing power. If we are to reach this goal successfully, we need to better understand how genuine equality will change our businesses, families and communities, and ensure that the work traditionally done by women does not become undervalued or abandoned."
When the panel was asked what they hoped to accomplish by the summit, Governor Swift stated that she hoped "the world would come to value the work women do, and value the choices women make." Some of the main topics discussed at the Summit were the roles of women as leaders, the challenges women face in becoming leaders, and the hardships of maintaining balance between work and home.
All three panels agreed that women have made strides and have slowly climbed into leadership roles in public affairs and business, but the road to gender equality is still long and progress is slow and painstaking. The speakers noted that lack of opportunities to rise to senior positions in the work place, issues of childcare and family life, and many forms of gender stereotypes are some of the major problems women face in our society today.
Kanter stated that "34 years ago, the first woman graduated from Harvard Business School; today women make up 39 percent of HBS." Wellington added that "Women in top positions of Fortune 500 companies have reached the biggest percentage in history, a whole one percent! The number of women CEOs in those companies have increased 100 percent from two to four."
When someone asked "what can we do to promote future women leaders?", numerous answers and suggestions were produced from the panel. However, nearly all members of the panels agreed that only through education
people can accomplish or at least get closer to gender equality.
"We need to empower people," said Janet Reno, "both men and women who believe in others, who better the future through education, love and time. I wouldn't want a world that didn't have a Franklin and Eleanor at the same time."
When the question of how we're educating women today was raised, President Shapiro responded, "At Barnard College, we educate our women so they understand that they can do anything. We not only fill them with confidence but also let them know what the barriers are, what's out there and what they will be faced with."
Marie Wilson added that it is just as important to educate men as well as women. "We need men as our allies, men who will open opportunities for us at work as well as stay home and take care of our children. We need not only better education programs in schools that will promote gender equality, but also have men talk to men. We need to use culture, such as Hollywood and MTV to portray men differently. The West Wing changed politics; we need shows that will change the mentality of men."
When a question of women's position in the Middle East was raised, Professor Kanter replied, "The biggest revenge on the Taliban would be sending all their women to college!"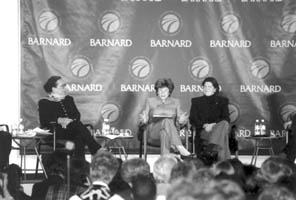 Education Update, Inc., P.O. Box 20005, New York, NY 10001. Tel: (212) 481-5519. Fax: (212) 481-3919. Email: ednews1@aol.com.
All material is copyrighted and may not be printed without express consent of the publisher. © 2001.
---