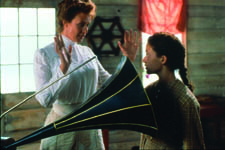 Tuneful Treasure: Songcatcher
by Jan Aaron
Wonderful music, memorable images and a strong performance by British actress Janet McTeer ("Tumbleweeds") make this movie a first-rate summer choice. Songcatcher, written and directed by Maggie Greenwald ("The Ballad of Little Jo"), was a big hit at last year's Sundance Film Festival—and it's about an educator.
Songcatcher tells the story of Dr. Lily Penleric (McTeer), a turn-of-the century musicologist who heads for the remote North Carolina hills to collect and study the music of the locals. The story, while somewhat predictable, is always entertaining: Lily finds love, becomes a free spirit and learns to appreciate the down-to-earth values of simple life. It has a terrific soundtrack of traditional songs by such greats as Taj Mahal and Emmylou Harris among others, and it presents the people of Appalachia sympathetically while offering a rare view of their vanishing way of life.
In 1907, Lily, passed over once again for the top musicologist job at her Northeastern school, trudges off to the North Carolina hills. Her sister Elna (Jane Adams) is living there and running a school with another teacher, Harriet (E. Katherine Kerr), and an angel-voiced orphan Deladis (Emmy Rossum). When Deladis sings a ballad she learned from her grandmother, Lily recognizes immediately that it is an old English folk song, preserved by the people here for 200 years.
Lily, loosely based on the real Olive Dame Campbell who toured the Blue Ridge Mountains in 1908, realizes that a study of the local music could enhance her career, so she sets about transcribing the traditional songs and recording them. It's not easy: She must earn the trust of the locals and traipse around with a mammoth recording machine. Most opposed to her mission is handsome Tom Bledsoe (Aidan Quinn) who considers her as exploitative as the stereotyped mining interests who are trying to buy up the mountain land at bargain prices. The movie also drags in lesbian love.
Lily succeeds in bringing the music to the outside world in which bluegrass, country and rock 'n' roll have their roots. With its minor flaws, the movie is always pleasurable and engrossing and a must-see for any American music-lover.
(112 minutes, released by Lions Gate Films, PG-13; for venues, call 777-FILM.)
Education Update, Inc., P.O. Box 20005, New York, NY 10001. Tel: (212) 481-5519. Fax: (212) 481-3919. Email: ednews1@aol.com.
All material is copyrighted and may not be printed without express consent of the publisher. © 2001.
---