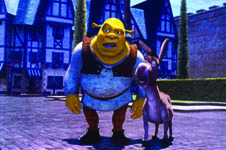 Funny Fairy Tale: Shrek
by Jan Aaron
This engaging, unusual PDI/DreamWorks ("Antz") animated feature about an ornery ogre is fine family fare. Based on William Steig's children's book of the same name, Shrek has a wonderfully realistic look, an amusing script, and is a hoot to watch for all ages.
The movie satirizes many Disney characters, hackneyed TV and our modern notions of beauty and body image. But let's cut to the fun part: Shrek (voiced by Mike Myers with a Scottish burr) is an enormous, pot-bellied, jug-eared smelly green ogre. And those are his good points. He's also gruff and tough, crude and filthy and just wants to be left alone, swatting away the occasional pesky gnat that happens upon his sun-dappled swamp. But he awakens one day to find his front yard filled with fairy tale characters: The Three Blind Mice, The Big Bad Wolf, Peter Pan—most of the Disney canon, plus an obnoxious Donkey (voiced by Eddie Murphy in his best role in years).
The evil, three-foot-tall Lord Farquaad (voiced unctuously by John Lithow) has banished them there, and, to get back his homestead, the ogre cuts a deal. The antisocial Shrek agrees to rescue the beautiful Princess Fiona (voiced by a spunky Cameron Diaz) who is imprisoned in a far-off castle by a dragon. Farquaad needs Fiona for a mate so he can become king of the land. So Shrek and the donkey as his sidekick, set off on their mission, finding themselves trekking through dangerous territory, navigating a bridge over molten lava and ultimately facing off with a ferocious dragon. Their escape through the castle's narrow passageways while the giant fire-breathing dragon tries to barbecue them offers the thrills of an action adventure film. A surprise romance brings the movie to a happily ever after ending.
Here's a movie that appeals to eye, the mind, kids and adults. Shrek is the summer's first hit.
(89 minutes; directed by Andrew Adamson and Vicky Jenson. PG. Call 777-FILM for venues.)
Education Update, Inc., P.O. Box 20005, New York, NY 10001. Tel: (212) 481-5519. Fax: (212) 481-3919. Email: ednews1@aol.com.
All material is copyrighted and may not be printed without express consent of the publisher. © 2001.
---