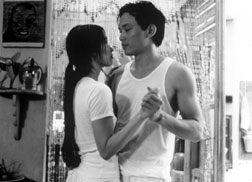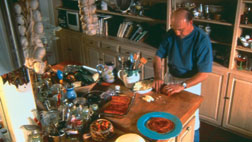 Film Feasts: Vertical Ray Of The Sun & Tortilla Soup
By JAN AARON
Lavish attention is paid to food preparation in two delicious new movies.
French-Vietnamese filmmakerís Tran Anh Hungís The Vertical Ray of the Sun, shot in Hanoi, is a Chekovian-like tale of three sisters Lien (Tran Nu Yen-Khe), Suong (Nguyen Nhu Quynh), and Khanh (Le Khanh). To honor the death of their mother, the family gathers at the cafe run by Suong and prepares a traditional meal. The event causes the sisters to reflect upon and idealize their parentís long and loving marriage (their father died a month after their mother) as well a mysterious man Toan. Was he their motherís lover?
In lush, subtropical settings, the tricky relationships between men and women are very much on the sistersí minds. Who is faithful, who is not? Is it okay to take lover? Or to love your brother perhaps a bit too much? The movie is slow and poetic. Each scene is composed with delicate beauty like series of lovely tableaux. A most intriguing aspect of this story is Tranís ethereal vision of Hanoi as an unhur-

ried tropical paradise full of cafes where friends meet for tasty tidbits in the afternoon.
Directed by Maria Ripoli, Tortilla Soup, opening late August, is the delectable retelling of the Chinese-language Eat Drink Man Woman, as a Hispanic American comedy. With Hector Elizondo (Pretty Woman), as a famous Los Angeles chef, Martin Naranjo, and his three divergent daughters, who bring their problems to his magnificent Sunday meals. Not overly spicy, their story is stirred with liberal dashes of Latin music.
Big changes are brewing when daughter Carmen (Jacqueline Obradors, Six Days, Seven Nights), who shares her dadís flair for cooking, announces a corporate job will relocate her to Barcelona. But each siblingís problems simmer in conversations at these Sunday dinners. #
(The Vertical Ray of the Sun: 112 minutes, in Vietnamese with English subtitles, PG-13, Sony Pictures Classics; Tortilla Soup: 100 minutes, PG 13, Samuel Goldwyn Films)
Education Update, Inc., P.O. Box 20005, New York, NY 10001. Tel: (212) 481-5519. Fax: (212) 481-3919. Email: ednews1@aol.com.
All material is copyrighted and may not be printed without express consent of the publisher. © 2001.
---