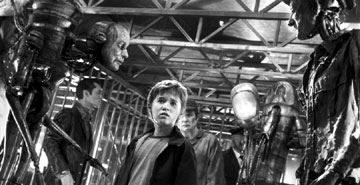 Spielberg's Bright Summer Film: Artificial Intelligence
By JAN AARON
Steven Spielberg's AI—Artificial Intelligence, a fascinating but flawed movie, is a masterpiece compared to some of the mindless summer flicks at the multiplexes. It has provoked widely divergent reviews and can provide hours of stimulating conversation at home and in the classroom about the nature of love and the future of mankind.
Turning a 1964 sci-fi story by Brian Aldiss into a movie started brewing in the late Stanley Kubrick's brain 25 years ago. The director, who died in 1999, involved Spielberg in his project in the 1980s. The result is an attempt to blend Kubrick's cold, pessimistic world with Spielberg's warm, fuzzy universe. They don't mix well, but the movie is nonetheless intriguing.
In a nutshell: The story is about an adorable robot that yearns like Pinocchio to be a real boy and his adventures along the way to achieving this goal.
In the mid-21st century, the Swinton family takes delivery of the charming David (The Sixth Sense's Haley Joel Osment), a robot who has been designed to respond intelligently and sensitively and reciprocate their love. Initially, the mother, Monica (Mansfield Park's Frances O'Connor), resists the creature. But then, cracking the owner's manual, she makes him part of the family—an irreversible process, she's been warned. When their real son Martin comes home, David must hit the road. There he goes on the lam with a robot named Gigolo Joe (The Talented Mr. Ripley's Jude Law). Their travels take them 2,000 years into the future before the movie's eerie conclusion.
Even if the concept doesn't always work, there are marvelous things to appreciate: All the performances are good, but terrific are Osment's and Law's; the cinematography by Janusz Kaminski, special effects by Stan Winston Studio, and production design by Rick Carter. The real genius is Spielberg zealously paying homage to Kubrick, but, who, like David, as he tries to be human, gets it almost, but not quite right.
(146 minutes; released by Warner Brothers, PG-13; for venues, call 777-FILM.)
Education Update, Inc., P.O. Box 20005, New York, NY 10001. Tel: (212) 481-5519. Fax: (212) 481-3919. Email: ednews1@aol.com.
All material is copyrighted and may not be printed without express consent of the publisher. © 2001.
---