WOMEN SHAPING HISTORY 2012
SHELIA EVANS-TRANUMN:
Chair, Board of Trustees, Casey Family Programs Foundation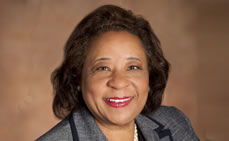 What inspired you to pursue your current career?
Where I am today, is definitely not where I thought I would be even 10 years ago. So where am I today? I retired from the New York State Education Department after 16 years of service as the Associate Commissioner of Education. My long term plan in 1993 was to work for the Department for three to five years (the term of office of my two predecessors Dr. Lester Young and Dr. Irving Hamer). My goal was to then teach on the university level and live happily ever after.
So, where am I today? I am the Chair of the Board of Trustees of the Casey Family Programs (Foundation) based in Seattle, Wash. I am the first African American to serve as chair of this prestigious foundation started by Jim Casey, the founder of UPS. Casey is the largest operating foundation in America serving children and the 11th largest foundation in the country. The goal of Casey is to safely reduce the number of children in foster care by 50 percent by the year 2020. The foundation is well on its way of completing its goal before that time as it works with legislators, systems and youth in 50 states and jurisdictions across America.
In addition, I serve as the Chair of the Board of Directors of the National Council on Educating Black Children, an organization founded by the late Congressman Gus Hawkins of California and we are now pleased to work with Congressman Bobby Scott of Virginia. More than 25 states have adopted NCEBC's Black Male Action Plan and the Gus Hawkins' Literacy Centers are being opened across the country in houses of faith and in community-based organizations.
Making sure that I continue to serve children in schools, I am the Executive Director of the UFT Charter School where tremendous work is going on to provide a quality education to children. It is great to be back on the ground, keys around my neck, and receiving big smiles and hugs from children as they go to and from class. Seeing the hopes and dreams on the faces of a thousand children and understanding their future is dependent upon your ability to execute an educational plan that will enable them to succeed remains a humbling experience.
Finally, the work I am doing in Denmark clearly was not on my radar screen 10 years ago. If someone had asked me about international consultancies I probably would have said more work in China, American Samoa or on the continent of Africa. Sweden and Denmark were not a part of my consulting vocabulary. But today, I am working with the country and its various ministries including the Minister of Education to infuse performance-based management into government systems. Being honored by President Bush to serve as an educational adviser on accountability, the transition to other countries was very easy although totally unexpected.
So today I am free to travel the globe, working on behalf of vulnerable children and vulnerable families around the world and that to me is the greatest gift that life can provide to any one human being.
What are some of the challenges you have faced and how did you resolve them?
I have faced the challenges that most women who find themselves on the leadership trajectory face. I continue to operate in a male-dominated arena where few African Americans are able to achieve influential status. I remember one day sitting in the office of Margaret Spellings, the Secretary of Education under George Bush. Margaret was sharp and focused on what educational advancements should look like for all children. She had served as Bush's domestic policy adviser before going to the U.S. Department of Education. I was a part of various types of workgroups under her leaders on various topics. One day sitting in her conference room at one of her meetings she asked me several questions. I suddenly became keenly aware that I was the only African American in the room. I also understand that my plea for the underserved and the undereducated was being heard and supported by someone in America who had the power to make a difference. I continued to attend those meetings despite what others said about the Bush administration. I did see some changes for the better. Sometimes challenges are to be faced head-on, and the belief in the power of one can ultimately add to the pages of "her story."
As my work with the Secretary continued, I had the opportunity to meet with the President and advise him on the future of No Child Left Behind. The day I entered the White House for that meeting remains in my mind. For whatever reason, I was the only meeting attendee entering the White House at that time. I passed through security, walked down the driveway with the click of my heels being heard. In the presence of the moment, I felt the warmth of my mother's hand, the smile from my father and the weight of an entire race saying thank you for staying the course and fighting for the underserved. It had been a lot of years of hard work, but the every step reminded me of not only the struggles I had faced as a female, but also the struggles of a great people who continue to endure and to make progress.
Who have been the most influential mentors in your life?
There are four mentors that come to mind immediately. The first is Dr. Donald H. Smith who retired as the Provost at Baruch College. Dr. Smith was the President of the New York Alliance of Black School Educators when I was still a classroom teacher. I attended one of his meetings at the encouragement of a friend. I found him to be eloquent, captivating, and centered on "Saving the African American Child" a concept he later commissioned into a report when he became the President of the National Alliance of Black School Educators. I followed him faithfully onto the national stage and was proud when Dr. Smith saw something in me and for many years provided the guidance and wisdom that helped to shape me into a conscientious educator. Today he still remains a beloved friend.
Dr. Alfred Pasteur was a second mentor and a brilliant psychologist who taught at Hunter College. Although deceased, sometimes after I finish doing a radio or television show, I wait to hear the phone ring. In my early days, he would listen to me do a show, call just as the program ended and give me his feedback on how well I had articulated the need to focus on the underserved and under educated.
Dr. Gwendolyn Baker was the President of Bank Street College when I first met her. She allowed the New York Alliance of Black School Educators to hold meetings and conferences at Bank Street. When she became President of the Board of Education, the work and the relationship deepened. She supported my work and vision as she became the President of the YWCA and the head of UNICEF. Dr. Baker taught me to look and sound soft as a female leader and use the "big stick" while your Fashion Fare makeup was always in place.
Dr. Adelaide Sanford, Vice Chancellor Emerita of the New York State Board of Regents remains my most constant mentor. Since 1985 when we started working on our first conference together bringing educators from around the world, we have been constant companions. Serving under her at the New York State Education Department where I served as the Associate Commissioner for sixteen years, I had the priceless opportunity to work with a political strategist, educator par excellent and a visionary policy maker. Sometimes she would pour out of experience so many words of wisdom that I would fill pages and pages of a legal pad. Where others have come and gone in my life, she has remained constant and true and has helped me to speak truth to power without being ashamed or afraid.
What would you describe as a turning point in your life?
After serving in education for most of my life, I genuinely felt that my work would always be centered on education. A turning point came when I received a call from a head hunting firm to join the Board of Casey Family Programs Board of Trustees. I felt honored that I was being considered even though I was serving, at that time, on the Phelps Stokes Board of Trustees. In all my years of working, no head hunter had ever reached out to me. Casey was a working board, so the thought of actually working with staff to affect change became very compelling. Once on the board, I realized a whole new world of investments, foster care, strategic consulting, and systems improvement had opened up to me. Today as the Chair of the Board, I understand the power and potential of helping to manage a multi-billion dollar portfolio on Wall Street while doing life saving work for children. This summer I spent time in South Africa, Kenya and Ghana with Casey's investment team to look at investment opportunities that would enhance our portfolio. I quickly realized this was a world of influence that I had never though I would enter as a major player, but fate and destiny has set me on a course and a trajectory with limitless possibilities. I am proud and humbled by the walk and the destiny that unfolds before me on a daily basis.
I am proud of a recent event. The Smithsonian has a travelling exhibit called Freedom Sisters which is now in New York. Part of the exhibit is to honor twenty local women who represent Freedom Sisters on a local level. Some of the women in the national exhibit include Rosa Parks, Merlie Evers, Coretta Scott King and others. I was honored to be designated as a Freedom Sister for New York along with Maya Angelou, Ruby Dee, Adelaide Sanford and two of Malcom X' daughters.
What are your future goals?
To write, to write to write and continue to live not in the margins, but as a female to take a leading role on the international center stage!#