Michelle Obama's Legacy: A Healthier Generation
By Adam Sugerman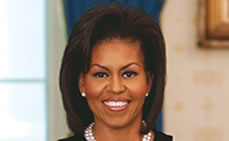 Diet and exercise. To lose weight, we need to burn more calories than we consume. If we eat 2,500 calories, but only burn 2,400, we're going to get heavier. Simple math, right? The people of our nation, and of the Western world for that matter, are increasingly becoming heavier.
Empowering people to get healthier is the premise behind the Let's Move campaign, an initiative first lady Michelle Obama helped to launch two years ago. While President Barack Obama has led the way in health-care reform to provide insurance for most residents of the U.S. by 2014, the health of the American people is in their own hands regardless of universal access to health care.
As part of the campaign, Michelle Obama has visited schools, partnered with professional athletes and worked with community and business leaders to help children and their families develop lifelong habits of eating healthy foods and incorporating exercise into their daily routines. From planting gardens to participating in sports events, the first lady is leading the way toward people eating healthier foods and getting children to exercise at least 60 minutes per day to help people avoid the future consequences of obesity, including heart disease and diabetes. Obama has helped mobilize teachers, doctors, nurses and parents to attempt to eradicate childhood obesity within a generation.
The mission of improving the nation's health isn't an abstract idea for Obama. For example, she incorporates exercise into her morning routine before she embarks on her hectic schedule.
Brawn and brains. As a graduate of the Chicago public school system and with an undergraduate degree from Princeton and a law degree from Harvard in 1988, she became an attorney in Chicago. She never abandoned her desire to work in the community. She served as assistant commissioner of planning and development in City Hall, and became the founding executive director of the Chicago chapter of Public Allies, an AmeriCorps program that prepares youth for public service. In 1996 she conceptualized and launched the University of Chicago Community Service Center to assist UC students to serve the community. This service center today has over 2,000 students serving annually at over 150 Chicago area nonprofit organizations. In 2002, She joined the UC Medical Center as executive director of community affairs, and then was promoted to assume the position of vice president for community and external relations.
Today she considers her career as a mother to her two children to be her most important obligation. But perhaps, we should consider her our nation's mother as she reminds us to eat healthy foods and to exercise regularly. And to exercise the mind, of course. #