WOMEN SHAPING HISTORY 2012
Joan Kretschmer, Ph.D.: Musician, Creator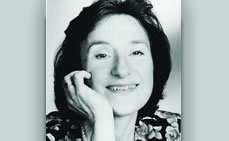 What inspired you to pursue your current career?
My love of music has been the driving force of every aspect of what I would call a variegated career in music. As a musicologist, critic, performer, teacher, interviewer, as well as the founder and artistic director of the Lyric Chamber Music Society of New York, I have had a life-long passion for — and interest in — music of all kinds.
What are some of the challenges you have faced and how did you resolve them?
In every aspect of my work, there have been challenges, of course, but I simply push ahead and try to overcome whatever the obstacle. Colleagues and friends tease me, saying that I won't take "No" for an answer and that I am willing to speak to anyone who can be helpful in resolving an issue. Those are handy, useful 'tools,' but they are just a part of accomplishing goals.
For example, I wanted to help musicians to be 'heard,' and was encouraged by my son, Elliot Thomson, to create a concert series. Good intentions were followed by an enormous learning curve, with inviting artists, fundraising, promoting concerts, developing mailing lists, creating a website, developing boards, and much, much more suddenly becoming daunting, daily activities in my life. Learning on the job by taking everything step by step has been coupled with finding sympathetic, caring, supportive music lovers—an ongoing search to support excellence, showcase talent, and enlarge the audience for great music.
As a young girl, I was programmed to be a wife and mother, to have no career. Piano lessons were part of my education, but I was certainly not to even think about performing. When my children were off to college, and I was in my 40's, I decided to study the instrument seriously. I went to Aspen as a music student, although I had a Ph.d. in musicology already. I had sight-read as a kid, not really practiced, and there was a lot to learn. I sought great teachers, like Edward Aldwell, Lilian Kallir, and Jascha Zayde to teach me the scales and repertoire.
An inner need to make music had reared its head, and I sat every morning at the piano for 3 hours, before I did other work. Soon Joe Robinson, Principal Oboe of the New York Philharmonic, invited me to play the Mozart Piano and Wind Quintet with his colleagues and sent his Manhattan School students to teach me the piece. Other opportunities followed suit, and I was learning from and playing with great musicians, feeling very lucky.
At the same time, I began to give piano lessons. I put up a sign in my building, shortly after I moved from Connecticut to New York City: "You don't have to leave the building to take piano lessons." I had had only one student, am adult, before that time. Within a few days, I had 9 beginning students and was experimenting with various method books in order to see what was 'out there.' Musicians have often told me they learned a great deal from teaching, and that has certainly been true in my experience - - a long story…. I enjoy students of all ages but have a particular sympathy for adults who have music inside of them and want to express it.
What are some of the accomplishments you're proudest of?
My sons; my development as a musician, writer, and photographer; the Lyric Chamber Music Society of New York; and my recent writing: my novel YONA, about a little girl with magical, musical powers, as well as a memoir I have just completed.
Who have been the most influential mentors in your life?
Jascha Zayde was a great, great musician, a wonderful teacher, and a surrogate father figure. He enabled me to play the piano and encouraged my writing as well as other artistic endeavors. I was very fortunate to know him.
At Barnard, Dr. Joel Newman was the person who introduced the history of music to this very innocent, ignorant girl from Newton, Massachusetts. Growing up in the home of immigrants, I had never been inside a museum and had attended only one concert, before my basic music history class with Joel. He changed my life, inter-relating the arts, and serving as a role model, a performing, teaching musicologist.
What would you describe as a turning point in your life?
Moving to New York City from suburban Connecticut in 1985, about to go through a divorce, and needing to find a career beyond mother and part-time music person. The empty nest and new, exciting location required soul-searching, experimentation, and 'finding' myself as an artist.
What are your future goals?
To ensure the continuity and flourishing of the Lyric Chamber Music Society of New York, with great music making and expanding outreach through our education programs. And to do some movie scores with our wonderful artists.
In addition, and very important to me, to publish my writing, to create more books and adventures (including animation) about YONA, to teach piano, and to do my photography.#