WOMEN SHAPING HISTORY 2012
Deborah Strobin:
An Uncommon Philanthropist
By Joan Baum, Ph.D.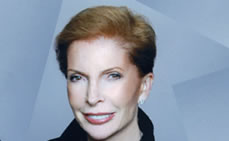 Sounds cinematic: immediate departure, Vienna overrun by Nazis, comfort gone, friends gone, borders closed, last boat out, but to where? Italy it was rumored. But the destination was a city in eastern China. Between 1938 and 1945 Shanghai was haven, the sole haven, for Europe's Jews, 18,000 of whom would constitute the only transplanted Jewish community to survive, even though the Jews were placed in the filthiest, poorest, more overcrowded district in the city, and under Japanese occupation and American bombing lived in constant fear (by 1945, 1,500 Shanghai Jews had died of hunger and disease). Film producer Mike Medavoy who was born in Shanghai, is working on a movie and a mini series on the Jewish ghetto in Hongkou, but no need to wait for a movie version of this incredible and still little-known story. A recently published memoir by brother and sister Ilie Wacs and Deborah Strobin, "An Uncommon Journey," recalls that traumatic time and life in the U.S. afterwards with pointed humor and unforgettable bold detail, while also showing that exemplary lives can emerge from horrific events. It's Deborah's story, however, that claims attention for Women's History Month.
When they finally were settled in the U.S. after a good deal of relocation, Ilie became a well known clothing designer who would renew his interest in visual art, much of it turning on the imagery of exile. Deborah worked first in interior design, but with the death of her husband Ed Strobin (COO of Banana Republic and a founder of Discovery Channel stores), she found her stride as a philanthropist. She wants to do more than raise funds, she writes in "An Uncommon Journey, she wants "to heart-raise and ambition-raise." She always wanted to help, even as a 10-year-old in Shanghai, when she saw war injuries: "If someone had told me to bandage a man's leg back to his body, I would have done it…"
Never having lived alone and thus not having had to determine new directions by herself, she discovered when her husband died a "strength inside" she never knew existed. And she came to understand that the tragedies she experienced in exile with Ilie and her parents forged her character and fueled her to reach out — to help others by raising money for causes that at the time were overlooked. Her early work for HIV/AIDS, the first such benefit to be held at Davies Symphony Hall in San Francisco in the '80s, and her subsequent work to raise funds for stem-cell research, the largest such fundraiser then in U.S. history, were far sighted. She was coming into her "quietly assertive" own, serving in 1994 as Deputy Chief of Protocol for the City of San Francisco, but she was still not ready to "claim her heritage" as a refugee.
It was shocking, of course, when in 1998 she and Ilie went to the Holocaust Museum in Washington, D.C., she a bit reluctantly, and Ilie cried out on seeing an old Japanese propaganda photo — "My God, that's my sister!" She remembers staring at the image, not seeing herself in it, only the "sad eyes" of the youngsters. She recognized the look, not the subjects. And that was the start of a new beginning. Freed of trying to avoid or bury a hurtful past, Deborah Strobin honed her philanthropic talents and skills, most of them intuitive ("nobody taught me about philanthropy").
She chooses her causes carefully. She has to "believe in" what she sets out to do. She is, she says, neither a fund-raising machine on automatic pilot nor a socialite craving media attention, though she has come to appreciate the need for "fun" in the philanthropy business and for fundraising committees to enjoy themselves. Still, she doesn't disguise her purpose when she goes looking for support. She tells prospective donors up front what she needs and how much will go to administrative overhead. This is not a typical M.O. for a fundraiser but it is Deborah Strobin's way and it's what, among other features, distinguishes her efforts. She likes a challenge and meets it with grace, aplomb and strength.
Years ago, when HIV awareness was still in its infancy, she recalls being "threatened" by those who feared her fundraising activities for research would attract an influx of gay agitators to San Francisco. Prospective donors boycotted her events, they would not meet with infected victims, they would not go to hospitals. She did. She is particularly proud of being a volunteer and of her determination to support causes not yet fully appreciated. Her latest endeavor is assisting the International Medical Corps (IMC), a global operation that began in Santa Monica 25 years ago and that tends to be confused with the Geneva-based Doctors Without Borders. IMC stays the course, no matter the difficulties in the country being served.
Deborah Strobin's is an uncommon philanthropy, a continuation of her "uncommon journey." The writing of the memoir proved cathartic, but it speaks to everyone. As does her work. #