Touro College Mourns the Passing of Its Founder and President, Rabbi Dr. Bernard Lander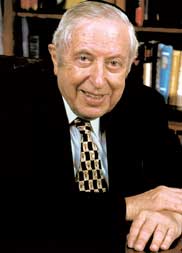 Dr. Bernard Lander
Touro College mourns the passing of its founder and only president, Dr. Bernard Lander, who died in New York City on February 8, 2010 at the age of 94. The cause of death was congestive heart failure.
Dr. Bernard Lander was a builder. Through his years as rabbi, scholar, teacher and administrator, he built his reputation as a man of genius, an advisor to presidents, a sociologist of distinction, a man who moved easily from the Jewish world to the secular world — but above all, as a builder. In the last four decades of his life, starting at the age of 55, Dr. Lander built one of the most extraordinary institutions of higher learning in the world, Touro College, which grew from a single college of 35 students when it opened in 1971 in midtown Manhattan to 29 schools, educating 17,500 students at undergraduate, graduate and professional programs in New York, California, Nevada, Florida, Israel, Russia, Germany and France. He trained rabbis, doctors, lawyers, accountants, computer programmers and technicians, and he trained them all well. Speaking to a filled ballroom in New York City in 2007, where over 1,400 guests had gathered to celebrate Touro's 36th anniversary, Dr. Lander said: "One should live a long life, but a life of meaning, purpose and creativity. This is the purpose of life and the purpose of Touro."
"I've lost a friend, I've lost a partner, I've lost the man who built this great monument to education, a citadel of learning," declared Dr. Mark Hasten, chairman of Touro's board of trustees and a colleague over many years in building the institution worldwide. "A man like Dr. Bernard Lander comes along once in a generation, or perhaps once in many generations," Dr. Hasten said.
Even as a youth, it was clear that Bernard Lander loved personal interaction and connected easily with people. Throughout his life and into his nineties, people were in awe of his ability to multi-task — conducting meetings in his conference room at Touro's central office on West 23rd Street, while taking calls on his cell phone and receiving an endless stream of visitors. Until the end of his life, Dr. Lander continued to put in full work days and travel for business and pleasure around the world.
Dr. Lander said he was inspired to launch Touro College after completing a study for Notre Dame University of student unrest on college campuses and concluding that students were reacting to "becoming a number rather than a face." He found little unrest at small, faith-based colleges. At the same time, he was plagued by the specter of Jewish youth losing their Jewish identity on American college campuses, and envisioned a network of Jewish-sponsored colleges that would combine liberal arts and sciences with Jewish studies. The colleges would marry academic excellence with a concern for improving American society, and at the same time emphasize religious values and a sense of "yiddishkeit" — Yiddish for "Jewishness." Dr. Lander firmly believed that Jewish studies should be combined with secular education to give all Jews the opportunity to earn a living and support their families with dignity.
Thus Touro was born. Initially a single small liberal arts and sciences college for men with Jewish studies, Touro grew into a galaxy of undergraduate, graduate and professional schools that would serve the Jewish as well as general populations. Even within these groups, Dr. Lander wished to serve multiple constituencies — the underserved, the aged, religious Jews and non-religious as well. Underlying Dr. Lander's and Touro's philosophy has been the oft-cited quote of Rabbi Hillel, one of the most influential scholars in Jewish history: "If I am not for myself, then who will be for me? And if I am only for myself, then what am I? And if not now, when?"
"If we are going to be integrated into society, we have to serve everyone," Dr. Lander told The Jewish Week in an interview in 2006. "We have a responsibility to the needs of the world. To serve humanity and society. And so as we build Jewish institutions, we are also building general institutions, irrespective of the background [of the student]."
With Dr. Lander's initiative, Touro College was chartered by the Board of Regents of the state of New York in June 1970. Following the opening of its first college for men in 1971, a women's division was added in 1974. In the late 1970s, a Flatbush division was established, and in 2000, a new Lander College for Men was established in Queens. The college also organized sister institutions in Israel and Russia. The School for Lifelong Education, offering a non-traditional contract-learning-based program, was organized in 1989. The Institute for Professional Studies was established in 1999 to provide higher education with practical applications for the Chasidic community. More recently, Dr. Lander opened branches in Los Angeles and Miami Beach. In addition, Dr. Lander also organized a school of general studies, which catered to new immigrants and underserved populations.
Equally important to Dr. Lander was graduate and professional training. Early in Touro's history, he established schools of law and health sciences, as well education, psychology, and an international school of business. In the past 13 years, Touro established colleges of osteopathic medicine in California and Nevada, as well as one in Harlem, along with associated programs and colleges of pharmacy, and programs for the allied health professions in these same locations. In 2009, Dr. Lander took a major step towards fulfilling a long-held dream of bringing an allopathic medical school into the Touro family of colleges with the announcement of an affiliation agreement with New York Medical College, a 150-year-old institution in Valhalla, N.Y.
In building Touro College, Dr. Lander weathered numerous challenges from segments of the Jewish community. "Since the days of the Talmud, our Sages have maintained different approaches toward the proper balance between the pursuit of religious studies and an occupation," Dr. Lander once said. "Rabbi Shimon bar Yochai believed that only Torah pursuits are worthwhile, while Rabbi Yishmael supported the value of preparing for and engaging in parnasa — in earning a living — alongside the individual's primary responsibility to religious studies. Touro has established institutions that support both positions."
Bernard Lander was born in Manhattan on June 17, 1915, the first of three children of David Lander and Goldie Teitelbaum, who immigrated in the early 20th century to the United States from Poland. He grew up in lower Manhattan, where his father worked predominantly in the garment industry.
Dr. Lander attended local public school and at the same time began Torah studies. His parents encouraged him to read and explore the public library. At 9, he left public school and enrolled in the Rabbi Jacob Joseph School, one of the first schools of religious and secular studies. In the fall of 1929 he transferred to the Talmudical Academy, Yeshiva College's affiliate high school and the first American high school to combine Jewish and secular studies. Dr. Lander continued his studies at Yeshiva College, where he graduated with honors in 1936. He studied for his rabbinical ordination at the Rabbi Issac Elchanan Theological Seminary and was ordained in 1938.
Dr. Lander's family supported the Religious Zionist Mizrachi movement, and he grew up dedicated to the goal of rebuilding a Jewish national home in Palestine. During college he established the first branch of Hapoel Hamizrachi in North America, a religious workers movement espousing "Torah and Work" that emphasized social justice and a productive life as essential elements of a full religious life in Judaism. In 1938 he began pursuing a doctorate in the field at Columbia University. To help finance his education he took a rabbinical position in Baltimore at Beth Jacob Congregation, which allowed him to commute to New York to pursue his studies. While in Baltimore, he also worked as a consultant to and subsequently a member of the Maryland State Commission on Juvenile Delinquency, where he proposed solutions for reducing youth crime.
In 1944, Dr. Lander returned to New York and began two active decades as a sociologist and academic, teaching sociology full-time at Hunter College, serving as a consultant to the New York City Youth Board, and reorganizing and developing graduate programs at Yeshiva University. He served as dean of Yeshiva University's Bernard Revel Graduate School from 1954 through 1969 and reorganized Yeshiva's graduate programs into the schools of social work, education and psychology between 1954 and 1959.
In 1948, Dr. Lander married Sarah Shragowitz, the daughter of the rabbi of Port Chester, N.Y., whose family immigrated to America in 1923. They spent their first year in Long Beach, Long Island, and then moved to Forest Hills, Queens, where they remained. They had four children. Sarah, who was the consummate Jewish mother and homemaker, passed away in 1995. She nurtured her children and believed in her husband's ability to achieve his dreams.
Among his many accomplishments prior to launching Touro was his participation in the Union of Orthodox Jewish Congregations of America. He chaired a social action committee, which involved promoting civil rights, fostering urban development, and improving conditions for the aged and poor. He acted as a senior director of a national study on the problems of youth for the University of Notre Dame. He studied poverty-stricken neighborhoods in the U.S. and the phenomenon of student demonstrations in the 1960s and its causes. He was appointed associate director of former New York City mayor Fiorello LaGuardia's Committee on Unity, where he promoted fair employment legislation and attacked discriminatory quotas in higher education.
Dr. Lander served as a consultant under three U.S. presidents. He was a consultant to the White House Conference on Children and Youth; served on an advisory council on public assistance established by Congress; and was a member of the President's Advisory Committee on Juvenile Delinquency and Youth Crime in the Johnson and Kennedy administrations.
He was the author of Towards an Understanding of Juvenile Delinquency, published by Columbia University Press, and numerous articles in the field of sociology. He was honored by the Council of New York State College Presidents for his lifetime contribution to higher education.
Dr. Lander is survived by his brother, Nathan, and his four children, Esther Greenfield, Hannah Lander, Debbie Waxman, and Rabbi Daniel Lander, as well as numerous grandchildren and great‑grandchildren.
Alan Kadish, M.D., who joined Touro in September as senior provost and chief operating officer, has been selected to succeed Dr. Lander as president. "Although I was only able to work with Dr. Lander for a few months, I was overwhelmed by his talent and his passion for education and for fellow Jews. He was a unique leader who carried forth a vision that built Touro into a remarkable institution," said Dr. Kadish. "I look forward to continuing his work and hope that I can justify the faith that he showed in me. #