The Dallas Opera: A Promising Beginning at a New State-of-the-Art Opera House
By Irving Spitz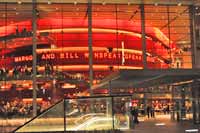 The new Margot and Bill Winspear Opera House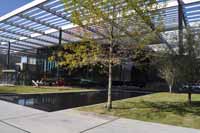 Last October saw the opening of the new Margot and Bill Winspear Opera House in Dallas. This ultramodern facility was designed by the British-based firm of Foster and Partners. Outside there is a canopy-sunscreen to protect from the intense Texas heat. The interior is red with the characteristic horseshoe style auditorium, seating 2,200. There are four tiers, with an ample orchestra pit. Any music venue stands or falls by its acoustics. Acoustician Robert Essert appears to have done a stellar job: The softest pianissimo could be distinctly heard, and the woodwinds in particular could be clearly discerned. Both orchestra as well as voices easily filled the house.

The opening production was Verdi's penultimate opera, Otello. Stage director Tim Albery and production designer Anthony Baker settled for a modern staging. Their Cyprus set was made up of grey concrete sets separated with flights of stairs and steel doors. I could not decide whether this represented a battleship, prison or fortress. Nevertheless this production did work.

Of the principal singers, pride of place went to Iago, played by Georgian baritone Lado Ataneli. Both vocally and dramatically he succeeded in bringing out the malevolence of the character. His powerful "Credo" was one of the highlights of the evening. An equally excellent performance was given by tenor Sean Panikkar as Cassio. Canadian soprano Alexandra Deshorties took over the demanding role of Desdemona at short notice. She began a little hesitantly, but was splendid in the final scene and gave a very creditable account of the "Willow Song" and "Ave Maria." Otello was played by veteran American tenor Clifton Forbis. He made a strong impression with his opening aria, "Esultate!" but often had to struggle with the lower registers. The singers were supported ably by the company's longtime music director, Graeme Jenkins, who led a forceful and energetic performance from the orchestra.

The Dallas Opera has an illustrious history and presented many international stars in their American debut. These include Joan Sutherland, Placido Domingo, Monserrat Caballe and Jon Vickers. Franco Zeffirelli directed his first U.S. opera here. The original house opened with a performance by legendary soprano Maria Callas. With this new Otello and a stunning new venue, the Dallas Opera has joined ranks with other major American and international opera companies. #

Irving Spitz, Emeritus Professor of Medicine, is an avid traveler and photographer. He frequently writes, reviews and lectures on medical topics, music, art, history and travel. Additional pictures can be seen at http://www.pbase.com/irvspitz.