Tales of Hoffmann at the Vienna State Opera
American bass Samuel Ramey and Australian Tenor Julian Gavin steal the show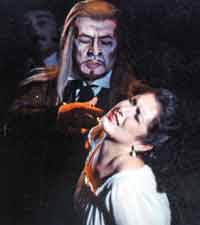 Alexandra Reinprecht and Samuel Ramey in Act 2 of Jacques Offenbach's Tales of Hoffmann
Credits: Wiener Staatsoper GmbH / Axel Zeininger
The innovative staging of Andrei Serban's 15 year-old production of Offenbach's Tales of Hoffmann is seen through a receding cube box. The walls are plastered with Klee-like images. The staging was most effective in Spalanzani's experimental laboratory in Act 1 and the final Venice act, although the latter was a little too reminiscent of Las Vegas for my liking. The epilogue portrayed the poet Hoffmann writing furiously page after page as characters from his three love stories glided past. An innovative twist was to portray the young Antonia as a child with her mother.
Dominating the production was veteran American bass Samuel Ramey. The four devils in this opera have become one of his major signature roles and he has performed them all over the world. Although his voice has lost some of its glorious timbre, he certainly did not disappoint. His acting and stage presence were impeccable. As Dapertutto in the Venice Act, he cut a real god-father appearance perched high up on a wheel chair surrounded by his Mafioso companions. He justifiably brought the house down with his rendering of the diamond aria in this act. Australian tenor, Julian Gavin, gave a most impressive and impassioned portrayal of the poet, Hoffmann. He and Ramey complemented each other which increased the dramatic tension. House tenor, Herwig Pecoraro, most effectively added to the outstanding ensemble of male voices.
With regard to the women, the most vocally competent was Ukrainian mezzo soprano Zoryana Kushpler in the role of the courtesan Giulietta. Austrian soprano, Alexandra Reinprecht as the doomed singer, Antonia, has a lovely lyrical voice but unfortunately it became strained in the fortissimo passages. Canadian soprano Jane Archibald was satisfactory as the doll Olympia but Romanian mezzo-soprano, Roxana Constantinescu, was disappointing, in the pivotal role of Hoffman's muse Nicklausse. Conductor Claude Schnitzler led a very polished businesslike and professional account of the score with the Vienna Philharmonic Orchestra and provided good support for the singers.
The week I was in Vienna marked the 70th Anniversary of the "Anschluss," when Hitler took over Austria with minimal opposition from the local population. The Vienna State Opera mounted an exhibit tracing the fate of its 92 Jewish members, including conductors, singers, members of the choir, orchestra and ballet corps as well other staff. A list of all their names was prominently displayed at the entrance to the exhibit and their ultimate fates were detailed in the many poster boards of this interesting yet sad exhibit. With the "Anschluss," all work contracts with these unfortunate individuals were terminated and several tragically perished in concentration camps. On the day of Hitler's arrival in Vienna the scheduled operatic performance was to have been conducted by the Jewish maestro, Bruno Walter. Not surprisingly, the performance was cancelled. A detailed booklet was also issued to commemorate this current exhibit. Austria is now coming to terms with the Jewish suffering and all its tragic consequences between the years 1938 and 1945.