NEW LEADERSHIP IN NEWARK
Newark Mayor Cory Booker
Looks Ahead to Education Reform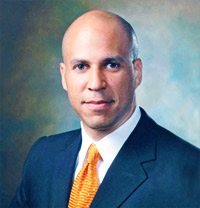 There's no one solution to fixing Newark's schools, and Mayor Cory Booker is eager to embrace any and all that produce results. "We need to cultivate the best in our kids and transform our schools into institutions of academic excellence," he told Education Update in an interview in his office in Newark. And Booker readily acknowledges the enormous challenges he faces.
Newark, New Jersey's largest city, serves about 42,000 students in public school settings and another 8,000 in private and parochial schools. Though it spends nearly $20,000 per pupil, fewer than 40% of its high school seniors passed the state proficiency test in 2005. Poor student achievement led to a state turnover of the education system in 1995, and the city is hoping to regain control within 18 months. For Booker, the return will provide an opportunity to forge a partnership between the city's chief executive and an appointed superintendent. Eyeing the relationship—and the positive results—that New York City's Mayor Michael Bloomberg and Schools Chancellor Joel Klein have fostered, Booker is optimistic it can happen in Newark. "It's the ideal when mayors and superintendents collaborate to improve education," he said, noting that his search for a new superintendent will be nationwide.
An advocate of school choice, Booker welcomes the diversity of education models that have developed in the past decade, including charter schools and other non-traditional institutions which are becoming more prevalent throughout Newark. But merely breaking up the city's large high schools that are performing below state standards isn't the only solution. "I want parents to be able to choose the best education for their children. An all girls high school might be good for some girls but not all girls. Some parents might want vocational high schools; others something else. I don't want to say there's one system for every child," he said, adding how he's "loyal to results. What makes me excited is a school that produces high achievement."
While educators and parents might be disdainful of the increased emphasis on testing, Booker believes it's needed to demonstrate proficiency and performance. "In this knowledge- based economy, the ability to do math and science, to read and communicate in writing, distinguishes us," he said. Booker, who received his BA and MA from Stanford, served as a Rhodes Scholar, and earned a law degree from Yale, tries to instill his own passion for learning, and that it's "cool to be smart" to students throughout Newark. "With every class I visit, I show examples of where education gets you. I draw links between professional and economic success and how well you do in school," he said. To promote academic achievement, he's provided incentives to students, beginning with the high school class of 2010- who were freshmen his first year in office—the class that began high school in 2006. If a class meets his academic challenges, it receives rewards through store discount cards, trips and parties. He's adding a class each year as he progresses through his four-year mayoral term.
Booker's goals to propel the city's education are receiving attention from the federal government, local universities, and foundations. In March 2006, the city was awarded a $14.8 million, five year Striving Readers grant, part of the federal No Child Left Behind legislation. Managed by New Jersey City University, consultants are working with middle and high school teachers to improve literacy. Other local universities, including Rutgers and Seton Hall, have various programs in many schools.
At 38, and only the third mayor in Newark since 1970, Booker's challenges extend beyond raising the educational bar. Newark, notorious for violent crime and poverty, marked the 40th anniversary of the 1967 race riots this summer. Attracting economic development and creating jobs pose perpetual hurdles.
The son of African-American civil rights activists, he's cognizant he's been privileged, and considers giving back a priority. He serves on several boards committed to social welfare and education, including Teachers' College Board of Trustees and the Executive Committee of Yale Law School. He values mentors; among them, a college professor of Greek art who inspired him to "see beauty, glory, strength and the divine all around; and the multitude of people around him who he says have "profound wisdom and know the communities better than I do." He serves as a mentor for three boys caught allegedly writing anti-Booker graffiti on a Newark building. He invites them to city hall, takes them to sports events and insists they do their homework. About to finish high school, he says they've made "great break-throughs."
A vegetarian, who mediates, Booker finds some time to read between the many meetings and media events. On his night table: Doris Kearns Goodwin's Team of Rivals: The Political Genius of Abraham Lincoln; The Yoga of Discipline by Swami Chidvilasananda and David Katz; and Lies My Teacher Told Me: Everything Your American History Textbook Got Wrong by James Loewen.#