Joseph Scelsa Brings Italian American Heritage to Life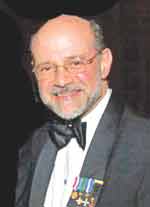 What do Bank of America founder A.P. Giannini, inventor Antonio Meucci (credited with inventing the telephone before Alexander Graham Bell), and Civil War colonel and antiquities collector Luigi Palma de Cesnola all have in common? According to Dr. Joseph V. Scelsa, founder and president of the Italian American Museum and Queens College VP, they represent but a handful of the hundreds of accomplished Italian Americans whose contributions to American culture have enriched society.
"People think of [Italian Americans] either as Renaissance scholars or 'Sopranos'," explains Scelsa, who has made it his life's work to depict and communicate the rich cultural heritage and contributions of Italian Americans. "We're so much more diverse," he continues. "We've got scientists, industrialists, and people in every walk of life where there have been contributions."
To commemorate the achievements of Italian Americans, Scelsa has amassed diverse collections of objects and memorabilia; a renovated, state-of-the-art building at Snug Harbor will depict shovels that dug the NYC subway system, the writings of midwives who delivered babies in the late nineteenth century, needlework, statues, and more. And he's sponsored a prodigious array of exhibitions, festivals, lectures, symposia, and educational travel programs throughout the city. "Our museum serves as a resource for universities and the larger community," notes Scelsa. "When scholars and students are interested in learning more about [Italian Americans], they'll …learn more of the real story." As a case in point, Scelsa points out that most Americans don't know that Italians, whose greatest immigration wave was between 1880 and 1920, were already living in this country for hundreds of years. John Cabot (nee Giovanni Caboto) was an Italian navigator and explorer credited as one of the first Europeans to discover the North American mainland, while Italian Philippo Mazzei helped to manage Thomas Jefferson's estate. "Italian thought and philosophy were already very strong in America's early years," points out Scelsa.
Scelsa, who holds a doctorate in Sociology and Education from Columbia University, wrote his dissertation on "Constructive Pluralism," and it is this principle that has continued to guide his mission to put Italian Americans on the map: "Each group in American society needs to have its own institutions, its own places where culture and values are learned, studied and shared by society. We're not a melting pot, we're a mosaic," he concludes passionately.
The collections and exhibitions of the Italian American Museum currently are spread among several sites in the city, but not for long. Scelsa recently signed a $9 million contract to purchase a building in the heart of Little Italy that will consolidate the Italian American Museum in one location. Once construction is complete (at least part of it will open in the fall or winter of 2008 if all goes well), the sky's the limit: Scelsa envisions artists-in-residence, educational seminars, Italian classes, cooking demonstrations, a small theater for screenings, and a full educational program that reaches out to school children.
Building a museum is no small feat, and Scelsa understands that his job will require a significant development effort. "I want to hire an executive director, a development director, and a curator for the museum. I know I must raise money. It will be a lot of work," he says, but notes that he's up to the task. (Scelsa, who is listed in Who's Who in America and Who's Who Among Italian Americans, already helped to raise significant funds for the Calandra Italian American Institute, which is under the aegis of Queens College.) "This is an idea whose time has come. After I'm gone, I want to leave the museum in good stead," he adds modestly. There is little doubt that Scelsa, whose role models include CUNY Chancellor Matt Goldstein ("He always said 'Think big'…he believed in me"), will accomplish his grand mission to immortalize the myriad contributions of Italian Americans, leaving a monumental legacy to both New York City, the country, and the culture he prizes so dearly.#
To learn more about the Italian American Museum, log onto www.italianamericanmuseum.org