WOMEN SHAPING HISTORY:
Dr. Charlotte Frank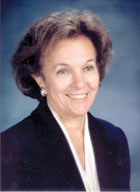 Factors in Career Choice: The factors have changed over the years. Upon graduation, having been the only girl in my high school physics class and success in my mathematic classes, I decided to enroll at CCNY thinking that I was going to be an engineer but after one year of many professors saying that this isn't a career for a female, I changed majors and graduated with a BBA majoring in Statistics and minoring in Economics. At graduation I had just returned from my honeymoon marrying the boy who sat next to me in the "Literature of Northern Europe" class. This marriage and having 3 children changed the direction of my career. I then became a teacher because I felt that the time constraints made it easier for me to balance my home and personal needs as well as my desire to have a career. Different lack of professional support and personal responsibilities made me change the choice in my career path.
Pivotal Point: After twenty-five years in the NYC Public School system as a teacher, supervisor and nine years as Executive Director of Curriculum and Instruction, I received a call from someone at The McGraw-Hill Companies who had just assumed many new responsibilities. He knew that he could accept the leadership of most of the publications e.g. Aviation Week, ENR and Architectural Record as well as the many other career publications but he needed help and was offering me a job to help him in the "el-hi (elementary and high school) world". The then Pres. of McGraw-Hill who knew me when he was the president of CTB/ McGraw-Hill when I was originally in charge of testing for a district in the Bronx recommended me to be considered for this responsibility in el-hi. Feeling that as a woman I wasn't going to the next level of being Supt of the NYC Public Schools, I accepted the offer to go from education in the public sector to education in the private sector.
Proudest Achievements: I'm most proud of unsolicited complimentary comments made to me. They range from: "You always tried to help us to learn from the best practices that worked in schools", "You knew how to develop curriculum materials that I still use to this day (twelve years later)" or when I received my PhD at NYU using the ten years of research data studying the impact on the winning recipients after receiving the Business Week Award for Instructional Innovation.
Obstacles: Time constraints are and were always a concern. There is too much going on and I just don't have enough time to do everything well. Getting into the office early and/or starting work at the desk at home often at 4:30am or having work meetings on weekends at home always helps. I'm a strong believer in the answer to the question "Why is it that those who are so lucky are those who work so hard?" Ongoing diligence to complete all responsibilities just took WORK.
Inspirational Mentors: Many of my mentors have been men and sometimes women throughout my years whether at CCNY or at the NYC Board of Ed, as well as at the McGraw-Hill Companies helped me to better understand how to negotiate "the system". They inspired me to think that I could really get "this" done. The "this" could be finding the best researchers to identify the best candidates each year for the "Harold W. McGraw Jr. Prize" award winners or "this" may be finding the connection that links education to many segments of McGraw-Hill such as helping the ENR Construction group to answer the request by the U.S. Dept of Labor to develop "In Demand" publications that identified the many career opportunities available for high school students and were distributed to every U.S. high school. They made me feel that I could accomplish anything I focused on.
Advice: My advice would be for these young women is to think about what in life is and will be meaningful for them. What would they like to accomplish at the end of their career and how to balance the demands of their family with the demands of their jobs. They must recognize that integrity, honesty and devotion to task are key ingredients for success and can clearly make a difference in our lives as well as for others in this global society.
Future Goals: My future goals are to continue on the path already set and to help make a difference in the lives of really caring and hard working men and women of diverse ages, ethnic and socio-economic groups.#