William Sadlier Dinger, Pres. of William H. Sadlier, Inc. and Maureen Dinger Receive Child of Peace Award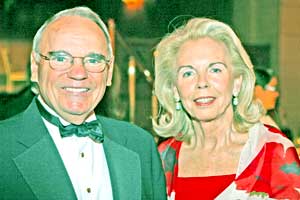 William Sadlier Dinger & Maureen Dinger

William Sadlier Dinger ('63), President of William H. Sadlier, Inc. received the Child of Peace Award at the 22nd Annual Child of Peace Award Dinner together with his wife Maureen Dinger on Thursday, September 27th at Jumeirah Essex House in New York City in recognition of their exemplary commitment to bettering the lives of those in need. All proceeds from the Dinner benefited the Maternity Services Program of the Catholic Guardian Society and Home Bureau, a human services program addressing the needs of mothers-to-be and mothers with newborns.
William Sadlier Dinger received his BA from the University of Notre Dame in 1963. After college, he joined the family firm, where he served as salesperson, sales manager, Director of Marketing, and National Sales Manager before assuming the responsibilities of President. His professional affiliations are numerous. His interest in the community has led Mr. Dinger to become involved in a number of activities outside of publishing such as offering handicapped children from the Manhattan Occupational Training Center a vital work experience at Sadlier, participating in the Principal for a Day program for New York City Public Schools and volunteering at Lenox Hill Hospital.
Mr. Dinger is an advisory Board Member of the Institute for Latino Studies at Notre Dame reflecting his commitment to strengthen the U.S. Latino community, an interest stemming from time he spent in Mexico as an undergraduate. He also participates in the Families Achieving New Standards (FANS) Literacy Project at Rutgers University. He is past President of the National Catholic Educational Exhibitors (NCEE). In the aftermath of Hurricane Katrina, Mr. Dinger organized a task force that went to Mississippi and Louisiana to replace much-needed school books for those communities.
Among many honors, Mr. Dinger received the Distinguished Service Award from the NCEA and the Leadership Award from the University of San Francisco Institute for Catholic Educational Leadership.
Maureen Dinger received her BA from St. Joseph's College. A proven leader who has recruited, motivated and supervised other committed individuals to achieve extraordinary goals, Mrs. Dinger has been instrumental in boosting the fundraising efforts of the American Cancer Society, Winthrop University Hospital, and Southampton Hospital. She is also a board member of the Save the Children organization and affiliated with the Inner-City Scholarship Fund, the Committee for Mission Responsibility, The International Catholic Organizations Information Center at the United Nations, and the Metropolitan Museum of Art. She is currently a teaching volunteer in the Learning to Look program. She is the recipient of the 100-Hour Service Award from Winthrop University Hospital and the Volunteer of the Year Award from the American Cancer Society.
The couple resides in Manhattan and has two married sons, William, Jr. and Michael, and a grandson, Andrew.
Founded in 1925, the Maternity Services Program of the Catholic Guardian Society and Home Bureau provides pregnant women with access to pre- and post-natal care, free counseling, safe new cribs with bumper guards and mattresses, blankets, layettes, baby clothing, baby formula, assistance with immunizations and other supportive services. The Program serves over 500 women each year in metropolitan and upstate New York. It also offers full-service adoption and post-adoption programs, conducts domestic and international home studies and places infants in approved homes. The Maternity Services Program is one of several Catholic Guardian Society and Home Bureau programs designed to help families, children, and individuals with special needs. While many of the agency's programs are supported by public funds, the Maternity Services Program relies exclusively on private charitable donations to provide its much needed services.
This year marks the 175th Anniversary of William H. Sadlier, Inc., a leading educational publishing company, which for nine generations has been helping educate students from Kindergarten through High School. William Sadlier Dinger and his brother, Frank Sadlier Dinger, continue the tradition of family management by publishing a broad array of mathematics and language arts programs designed for today's classrooms.#