Salzburg Festival -2007 (Part 1)
Despite high profile cancellations, it remains as impressive as ever.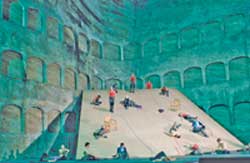 Peter Ruzicka, in his last season as Director of the Festival, staged all 22 operas of Mozart who was Salzburg's most illustrious son. Jürgen Flimm, who took over this year, has a different agenda. There were four new operatic productions, three of which had never been previously presented in Salzburg and one, Der Freischütz, was last seen over 50 years ago. Flimm, a noted theatre and operatic director in his own right, kept hands off, engaging four directors who were also new to the Salzburg scene. With his hands full, managing, planning and executing this huge enterprise, Flimm took a cue from Shakespeare's As You Like It: "All of Salzburg's a stage"
Haydn's rarely performed baroque opera, Armida, based on a 16th-century poem "Gerusalemme Liberata," ("Jerusalem Delivered") by the Italian Torquato Tasso was one of the most interesting new productions. This great epic of romance and heroism has been a source of inspiration to painters and composers alike. Handel, Salieri, Lully, Gluck, Rossini and Dvorak also composed operas based on this subject. It is the story of the liberation of Jerusalem by the Christians from the Muslims at the time of the Crusades. The Christian knight Rinaldo is enticed by the Muslim sorceress Armida to desert and they fall passionately in love. This results in a conflict between the love of two individuals and their duty to their countries and religion. In Haydn's opera, the two central characters are already in love, and the bewitched knight spends the entire opera trying to tear himself away from Armida. The libretto is weak and for this reason, the opera has been neglected despite the fact that the music is most moving.
Director Christof Loy's production was performed in the Felsenreitschule (Riding School). The natural stone background of the huge stage does offer dramatic possibilities. However designer Dirk Becker's concept was minimalistic and the stage was essentially empty, dominated by a high pile of wood on the right and a ramp on the left. This opera has a cast of six and no chorus. Nevertheless Becker filled up the cavernous space by adding a large number of extras dressed as soldiers. They navigated the wood pile with ropes and ran up and down the steep incline which I found to be somewhat distracting.
The two Muslim sorceresses were sopranos Annette Dasch as Armida and Elena Tsallagova as Zelmira. Both were outstanding vocally and dramatically. Dasch negotiated the coloratura role with brilliance. She was particularly effective in her Act 2 show stopper aria "Odio, furor dispetto" ("Hate, fury resentment"), when in her anguish at being forsaken by Rinaldo, she fell prostate at the summit of the ramp and then rolled down the steep incline showing extreme acrobatic agility. Elena Tsallagova sang with a voice which was both rich and full. Tenors Michael Schade as Rinaldo and Bernard Richter as Clotarco, the other Christian knight enticed by Zelmira, were both vocally splendid. Richard Croft, moving around in a wheelchair was every bit the equal of the other tenors. He portrayed the Christian commander Ubaldo, who urges Rinaldo to abandon Armida. Vito Priante, as Idreno, leader of the Moslems, used his sonorous bass to good effect. Accompaniment was competently provided by the Orchestra of the Mozarteum, under the baton of Ivor Bolton who led a very paced and effective account of this score. The Christian army's military music was played by an off stage band and heard, rather ineffectively, through loudspeakers.
The same poem by Tasso was adapted by Brahms to a libretto by Goethe in a work for orchestra, tenor and male choir. It is known as Rinaldo and unlike the composer's sublime ever popular Alto Rhapsody, it is rarely performed. Rinaldo was presented by the Radio Symphony Orchestra of Vienna conducted by Bertrand de Billy. South African heldentenor, Johan Botha, a powerfully communicative artist, and the male choir of the Vienna State Opera all contributed to making this an outstanding and effective performance.
At this year's festival, there were a number of high profile cancellations including Anna Netrebko, Rolando Villazon, Vesselina Kasarova and Neil Shicoff. This created headlines in the newspapers and gossip columns. However the substitutes were of such a high standard, that the overall quality of the festival was not compromised.

Illustration:
Staging of Armida,
Copyright : Monika Rittershaus